December 4, 2019
Xin Luo, Yaoxi He, Chao Zhang, Xiechao He, Lanzhen Yan, Min Li, Ting Hu, Yan Hu, Jin Jiang, Xiaoyu Meng, Weizhi Ji, Xudong Zhao, Ping Zheng, Shuhua Xu & Bing Su
Nature Communications volume 10, Article number: 5525 (2019)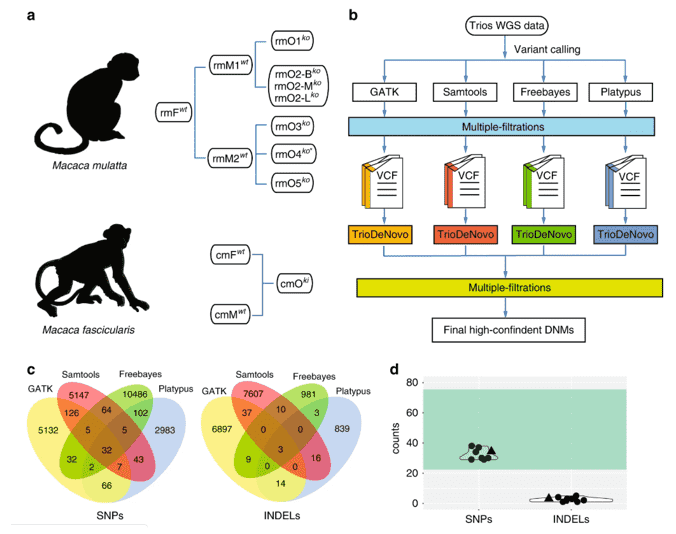 Detecting de novo mutations (DNMs) in the Cas9-treated monkeys.
Abstract
CRISPR-Cas9 is a widely-used genome editing tool, but its off-target effect and on-target complex mutations remain a concern, especially in view of future clinical applications. Non-human primates (NHPs) share close genetic and physiological similarities with humans, making them an ideal preclinical model for developing Cas9-based therapies. However, to our knowledge no comprehensive in vivo off-target and on-target assessment has been conducted in NHPs. Here, we perform whole genome trio sequencing of Cas9-treated rhesus monkeys. We only find a small number of de novo mutations that can be explained by expected spontaneous mutations, and no unexpected off-target mutations (OTMs) were detected. Furthermore, the long-read sequencing data does not detect large structural variants in the target region.
More info at: https://www.nature.com/articles/s41467-019-13481-y
For Research Use Only. Not for use in diagnostic procedures.