The Introduction of Sanger Sequencing
Sanger sequencing, also known as the "chain termination method", is a method of DNA sequencing based on the selective incorporation of chain-terminating dideoxynucleotides by DNA polymerase during in vitro DNA replication. Developed by two time Nobel Laureate Frederick Sanger and his colleagues in 1977, hence the name the Sanger Sequence, it was the most widely used sequencing method for approximately 40 years.
More recently, Sanger sequencing has been replaced by Next-Generation sequencing methods, especially for large-scale, automated genome analyses. However, Sanger remains useful for sequencing single genes or amplicon targets of up to 100 base pairs in length, for projects involving 96 or fewer samples, for microbial identification and gene fragment analysis, and for analyzing short tandem repeats. Moreover, Sanger is considered the "gold standard" sequencing method for validating the sequence of specific genes.
Sanger sequencing also is the most widely used testing platform for mutation detection in various cancer settings, as it provides a comprehensive examination of all genetic aberrations in the sample material. Sanger sequencing has proven useful for assessing the presence or absence of recurrent single nucleotide mutations or small insertions/deletions in oncogenes and tumor suppressor genes in surgically resected pathology specimens.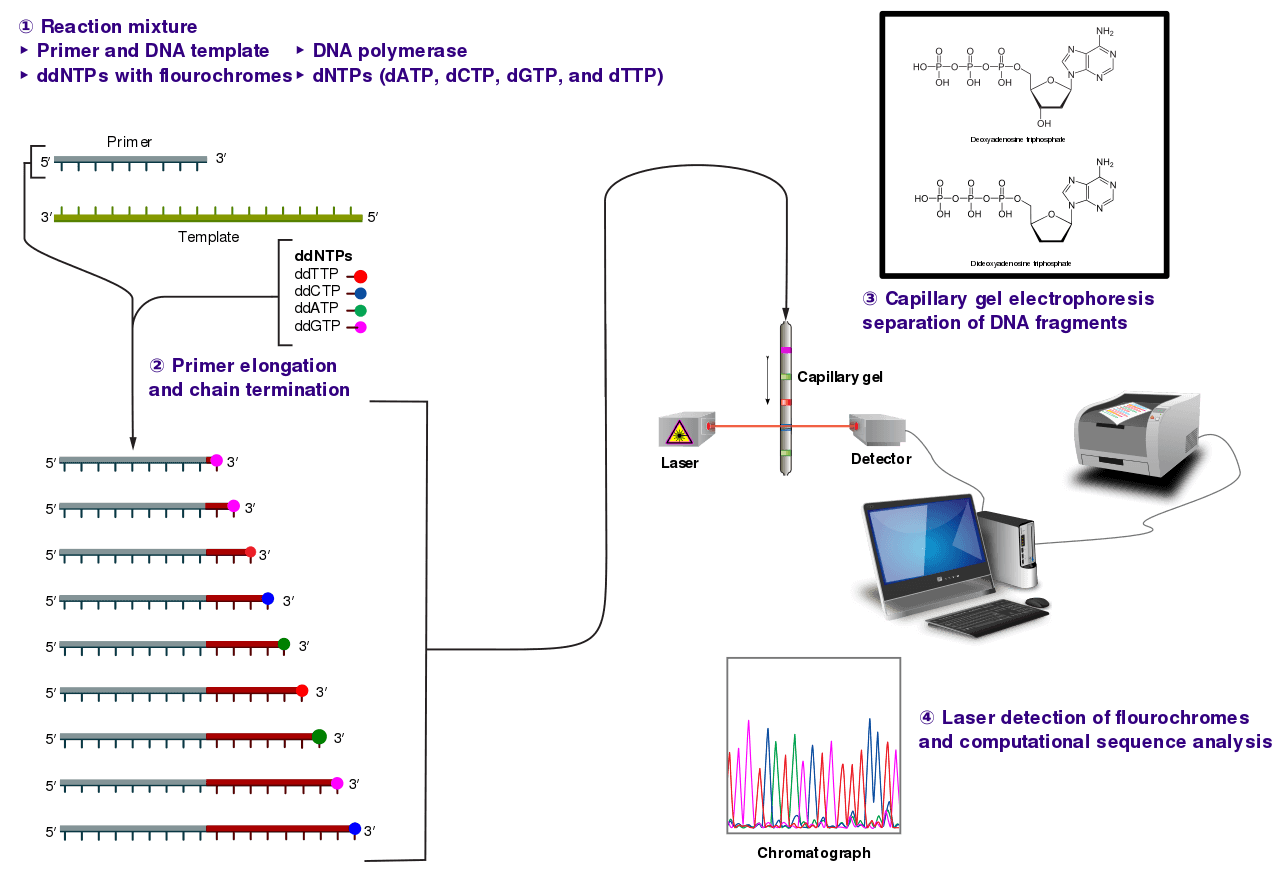 The Sanger (chain-termination) method for DNA sequencing
Applications
HSP (hairpin, stemloop, palindrome) for problematic templates
Fragment analysis applications
Microsatellites
AFLP (amplified fragment length polymorphism)
Single nucleotide polymorphism and mutation detection
Chromosomal insertion and deletion (INDEL)
16S Microbial Identification
Defining the mutational spectrum of a tumor
Identifying a constitutional variant in diagnostic testing
Key Features and Advantages
High Quality - DNA sequencing read lengths up to ~800 bases
Highly-Trained Technical Support-Our team provides accurate, reliable data
Rapid Turnaround Time
Low-Cost
Free advice and trouble shooting
Project Workflow
Plasmids extraction / PCR products purification
Quantification
Sequencing
Sequence analysis
Service Specifications
Sample Requirements

PCR Products (purified or not): ≥ 20 ng/µL
Plasmids(< 10 kb): ≥ 100 ng/µL
Plasmids(>10 kb): ≥ 500 ng/µL
DNA fragments (e.g. gel isolated fragments): 30 ng/ul
Large DNA (BACs, bacterial genomic): ug/ul
Minimum volume of 15 µL; 10 ul per reaction

Sequencing Strategy

Applied Biosystems DNA Sequencers (Model 3730 XL sequencer)
One sequencing run (one template, one primer) typically produces 800-1000 nucleotides of high-quality sequence data

Data Delivery

The results are returned in two forms:
Raw sequence file (.seq file)
Raw trace (.ab1 file)
More than a decade of experience in Sanger sequencing makes CD Genomics the most trusted company for your DNA sequencing projects. Get high standard results with short delivery times and personalized customer support. Our highly-trained technical support provide you the best service on the market. If you have additional requirements or questions, please feel free to contact us.
For Research Use Only. Not for use in diagnostic procedures.