Mitochondria, called "powerhouses of the cell", are vital organelles in human cells. Human mitochondrial DNAs (mtDNA) form double-strand circular molecules that contain about 16,569 DNA base pairs and encode 37 genes (Fig. 1). There are thousands of mtDNA molecules in a single cell, and mtDNA is highly mutable because it is not protected by histones. The mutated mtDNAs coexist with the wide-type ones in a state called heteroplasmy, which has been detected to be associated with a wide range of human diseases, like Autism Spectrum Disorder (ASD), Leber's hereditary optic neuropathy (LHON), breast cancer, Alzheimer's disease, Parkinson's disease and hypertension. Therefore, the mitochondrial genome is a significant object of researches in clinical diagnosis.
CD Genomics has developed panels that specifically captures the entire human mitochondrial DNA genome. These are multiplex PCR based and probe captured based targeted sequencing approaches which could 100% cover the human mitochondrial genome. Employing this panel, customers no longer need to provide purified mtDNA. mtDNA enrichment is achieved by multiplex PCR amplification or probe capture of the mitochondrial genome. The enriched mtDNA is then subjected to library prep and ultra-deep sequencing. CD Genomics provides this technology to help customers research on mitochondrial genome-related diseases.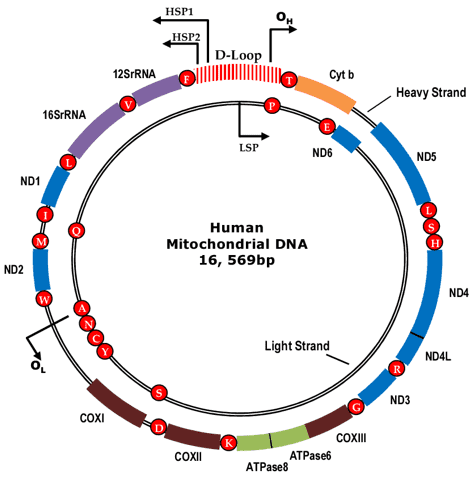 Figure 1. The circular human mitochondrial genome.
Key Advantages and Features
Easier access to initial samples: human gDNA, containing both mtDNA and nuclear DNA
Ultra-deep sequencing: >1000x coverage, with Illumina PE150 platform
High accuracy: 100% amplicon or probe coverage of all regions of the mitochondrial genome
Lowest price: which is dependent on the sample-size, please contact us for a quotation
Fastest turnaround time: 3-4 weeks
Service Workflow

Data Analysis
Data analysis is provided upon request. Standard human mtDNA sequencing bioinformatics service includes raw data QC, alignment to the mitochondrial reference genome, and variant (SNP/InDel) calling and annotation analysis. Heteroplasmy and haplogroup analysis are available for request.
References:
Yiqin Wang, et al., Genetic evidence for elevated pathogenicity of mitochondrial DNA heteroplasmy in autism spectrum disorder. PLoS Genet. 2016, 12(10): e1006391.
Mengqin Duan, et al., Recent advances in detecting mitochondrial DNA heteroplasmic variations. Molecules. 2018, 23(323).
For Research Use Only. Not for use in diagnostic procedures.