With CD genomics' extensive experience in NGS, we now offer Double digest restriction-site associated DNA (ddRADseq) services for genome wide SNP discovery even without prior knowledge of the genome sequence. ddRADseq is able to sequence genome-scale data from non-model species that allow for the economical development of data sets with broad taxonomic and geographic sampling.
ddRADseq is currently a popular tool for molecular ecologists developing novel SNP markers using next-generation sequencing (NGS) platforms. It takes advantage of the cut-site specificity of restriction endonuclease enzymes to generate library fragments of distinct genomic regions that are identical between individuals of the same species, which enables sequencing and sequence comparison of the same regions of the genome across individuals. The development of a large amount of genetic markers can be accomplished quickly and effectively.
Method
ddRADseq is a variation on the RAD sequencing protocol, which is used for SNP discovery and genotyping. The fragment shearing is replaced with a second restriction digestion to improve the tunability and accuracy of the size-selection step. In summary, the genomic DNA is first digested with a restriction enzyme and a barcoded P1 adaptor ligated to the fragments. The adaptor-ligated fragments from different samples are combined, and the DNA digested by a second restriction enzyme. The fragments are size-selected and purified. The P2 primers are then ligated and the fragments amplified. The sequence data is then analyzed to survey and score genetic variations in the samples of interest.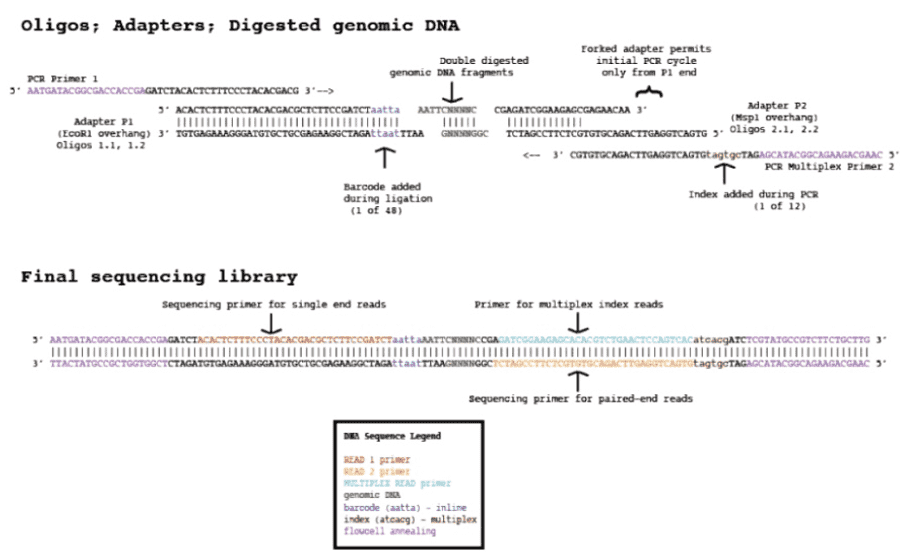 Advantages
No reference genome is required
Relatively inexpensive, compared to whole-genome sequencing
Scalability of markers yield from thousands to hundreds of thousands
Various restriction enzymes can be selected based on the genome
Complementary analyses:
linkage - QTL mapping
association studies (GWAS)
molecular barcoding / genetic variants identification
diversity and population structure​
CD Genomics is the licensed service provider for this technology. Keygene N.V. owns patents and patent applications protecting its Sequence Based Genotyping technologies. And we have optimized a reliable ddRADseq procedure and can offer the service at an affordable cost by using Illumina sequencing platform.