With CD genomics' extensive experience in NGS, we now offer Double digest restriction-site associated DNA (ddRADseq) services for genome wide SNP discovery even without prior knowledge of the genome sequence. ddRADseq is able to sequence genome-scale data from non-model species that allow for the economical development of data sets with broad taxonomic and geographic sampling.
What Is ddRAD Sequencing?
ddRADseq is currently a popular tool for molecular ecologists developing novel SNP markers using next-generation sequencing (NGS) platforms. It takes advantage of the cut-site specificity of restriction endonuclease enzymes to generate library fragments of distinct genomic regions that are identical between individuals of the same species, which enables sequencing and sequence comparison of the same regions of the genome across individuals. The development of a large amount of genetic markers can be accomplished quickly and effectively.
What Is The Principle Of ddRAD Sequencing
ddRADseq is a variation on the RAD sequencing protocol, which is used for SNP discovery and genotyping. The fragment shearing is replaced with a second restriction digestion to improve the tunability and accuracy of the size-selection step. In summary, the genomic DNA is first digested with a restriction enzyme and a barcoded P1 adaptor ligated to the fragments. The adaptor-ligated fragments from different samples are combined, and the DNA digested by a second restriction enzyme. The fragments are size-selected and purified. The P2 primers are then ligated and the fragments amplified. The sequence data is then analyzed to survey and score genetic variations in the samples of interest.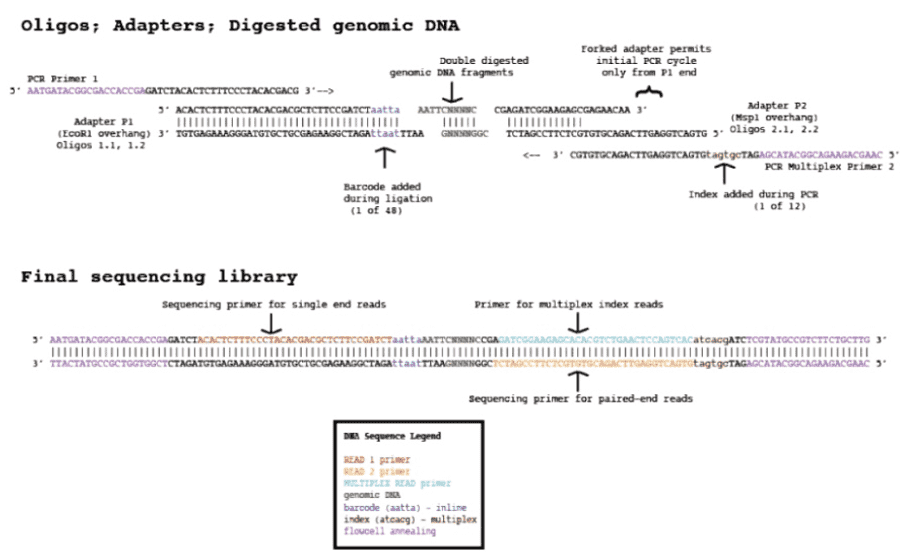 What Are The Advantages Of ddRAD Sequencing?
No reference genome is required
Relatively inexpensive, compared to whole-genome sequencing
Scalability of markers yield from thousands to hundreds of thousands
Various restriction enzymes can be selected based on the genome
Complementary analyses:
linkage - QTL mapping
association studies (GWAS)
molecular barcoding / genetic variants identification
diversity and population structure​
CD Genomics is the licensed service provider for this technology. Keygene N.V. owns patents and patent applications protecting its Sequence Based Genotyping technologies. And we have optimized a reliable ddRADseq procedure and can offer the service at an affordable cost by using Illumina sequencing platform.
ddRAD sequencing-based genotyping for population structure analysis in cultivated tomato provides new insights into the genomic diversity of Mediterranean 'da serbo' type long shelf-life germplasm Horticulture Research
Abstract
Tomato (Solanum lycopersicum L.) stands as a vital economic vegetable crop with global cultivation.One can trace the beginnings of tomato domestication to the Andean region of South America, from where it spread throughout the Americas. During the 16th century, tomatoes were introduced to Europe, with Spain and Italy as major entry points. This introduction sparked further domestication efforts, contributing to the emergence of substantial local genetic diversity. Consequently, the Mediterranean Basin in Europe is recognized as a secondary center for the diversification of tomatoes. In the context of this investigation, we harnessed ddRAD-seq technology to methodically explore the genetic diversity present within various tomato varieties.
Results
In this investigation, the genetic diversity of 288 tomato specimens was examined, encompassing 152 samples of the long shelf life (LSL) variety 'da serbo,' primarily originating from Italy and Spain, as well as other common varieties from diverse countries. Beyond the LSL trait, 'da serbo' varieties also display stress tolerance characteristics. In order to do non-parametric hierarchical clustering and model ancestral population structure, the study found 32,799 high-quality single nucleotide polymorphisms (SNPs). six distinct genetic subpopulations were delineated, effectively segregating the majority of 'da serbo' varieties, reflecting population substructure related to both varietal type and geographical origin. Linkage disequilibrium (LD) exhibited rapid decay within a genomic span of less than 5kb. Investigation of SNPs featuring low-frequency alleles (MAF) in 'da serbo' materials unveiled a high-frequency mutation in genes associated with stress tolerance, such as CTR1 and JAR1, which are implicated in fruit ripening. Finally, leveraging a selection of 58 core materials representing a significant portion of the genetic diversity, essential traits were further developed. The genetic signatures of the 'da serbo' germplasm, which was cultivated with selection in the Mediterranean Basin, are revealed in this work. Furthermore, it provides new perspectives on the long-lived "da serbo" germplasm, establishing it as a rich source of stress-tolerance genes.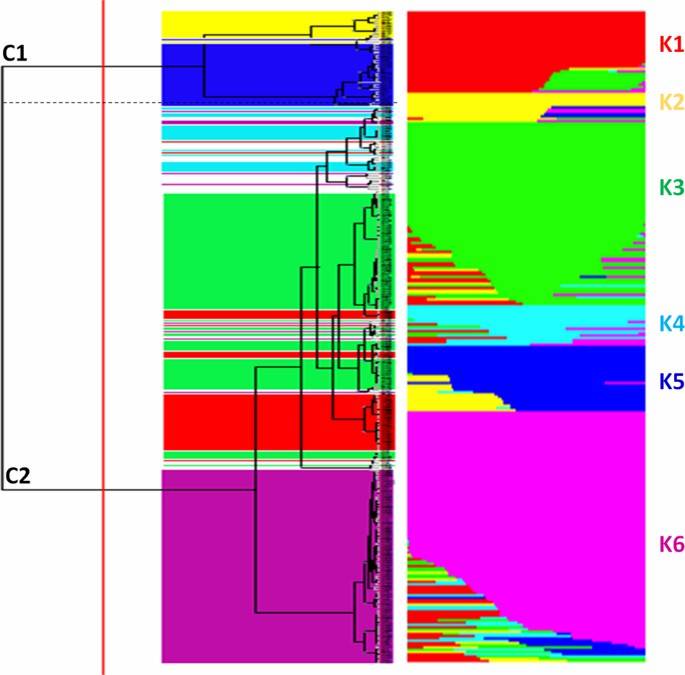 Fig. 1 Estimate of genetic diversity in 288 tomato accessions using ddRAD.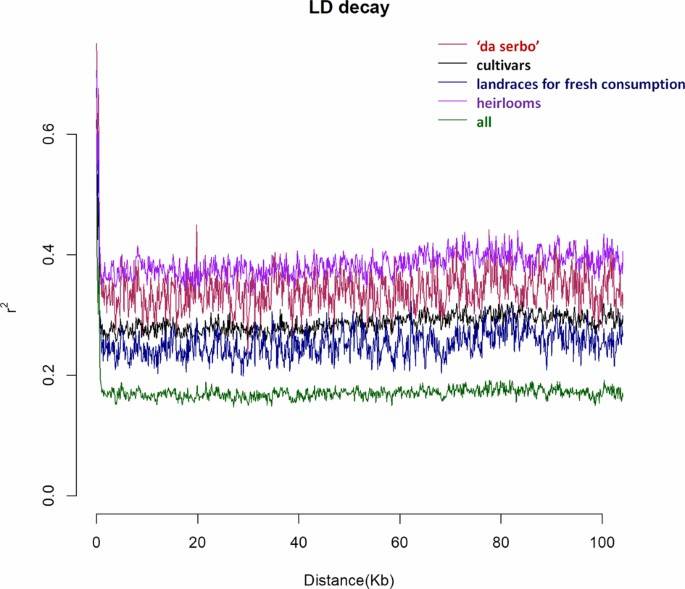 Fig. 2 Linkage disequilibrium (LD) decay and comparison.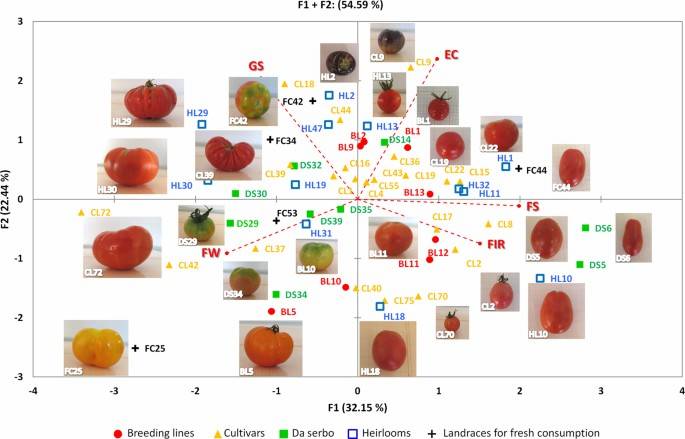 Fig. 3 Loading plot of the first (F1) and second (F2) principal components showing the variation for main fruit traits in accessions of the mini-core set developed from ddRAD SNP data of 288 cultivated tomato genotypes.
Reference
Esposito, S., Cardi, T., Campanelli, G. et al. ddRAD sequencing-based genotyping for population structure analysis in cultivated tomato provides new insights into the genomic diversity of Mediterranean 'da serbo' type long shelf-life germplasm. Hortic Res 7, 134 (2020).