Microsatellite instability (MSI) is a form of genomic instability. It is caused by the insertion or deletion of repeating bases (called microsatellites) during DNA replication and the failure of the mismatch repair system (MMR) to correct these errors.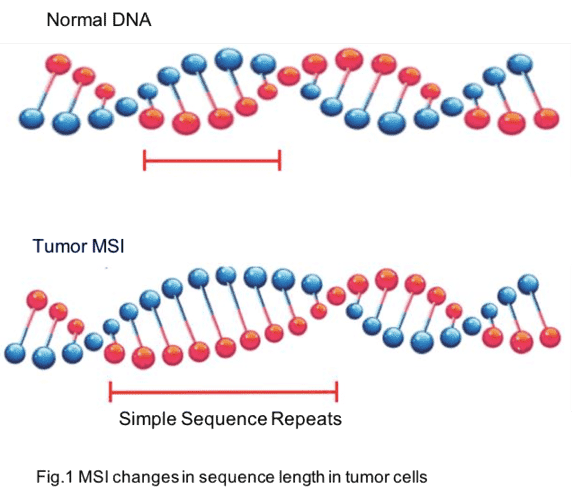 CD Genomics employs Promega kit which is a fluorescent multiplex PCR-Capillary Electrophoresis based method to detect the MSI status. Typically, the MSI analysis system includes allelic profiles of microsatellite markers comparison, involving five nearly monomorphic mononucleotide repeat markers (BAT-25, BAT-26, MONO-27, NR-21 and NR-24) and two highly polymorphic pentanucleotide repeat markers (Penta C and Penta D), which are quality control for sample authentication of matched normal and tumor. For MSI detection, tumor and normal tissues from each patient need to be analyzed in parallel. Generally, MSI detection in ≥ 30-40% of the markers is considered to be MSI-high (MSI-H), whereas that in < 30-40% of the markers is considered MSI-low (MSI-L), or MSS if no marker is unstable.
Key Features and Applications
Greater accuracy than IHC, cost-effective and faster turnaround than NGS
Lynch syndrome screening
Prognosis detection in sporadic colorectal cancer
Diagnostic tests in a wide range of solid tumors
MSI Analysis Workflow:

Sample Requirements
For normal tissue

1) 5 mL peripheral blood in EDTA tube
2) 5-6 FFPE tissue slides or block containing only non-tumor tissue
3) We can attempt to isolate non-tumor tissue from the tumor specimen submitted in cases no alternative tissue is available

For tumor tissue

FFPE tissue (paraffin block is preferred).
Note: Additional normal, non-tumor tissue sample from the same source individual is required for comparison testing in MSI Analysis.
Data analysis
Using Applied Biosystems® 3500 xL Genetic Analyzer.
Reference
Le, D.T. et al. (2017) Mismatch-repair deficiency predicts response of solid tumors to PD-1 blockade. Science 10.1126/scienc.aan6733.
Le, D.T. et al. (2015) PD-1 Blockade in Tumors with Mismatch-Repair Deficiency. New Engl. J. Med. 372, 2509–20.
NCCN Clinical Practice Guidelines in Oncology: Genetic/Familial High-Risk Assessment: Colorectal. Version 2.2015.
Promega Technical Manual. MSI Analysis System v1.2. Oct 2012.
For Research Use Only. Not for use in diagnostic procedures.