CD Genomics offers a comprehensive microRNA microarray profiling service based on some of the most powerful platforms in this field with unrivaled accuracy and sensitivity.
miRNA expression profiling came into prominence, in part, because of the expectation that a highly expressed miRNA for a given tissue or cell type (or a developmental stage) is likely to play a regulatory role. Let microRNA and microarray experts perform your analysis in automated laboratories with rigorous quality control and fast turn-around times and advanced data analysis tailored to your research needs and budget.
Features and Benefits
Complete content flexibility(all species)
Optimized RNA hybridization probes
Cost-effective, one-stop solution
Experienced service provider handling various research & clinical sample types(including FFPE and Blood/Plasma Samples)
Workflow of Our Service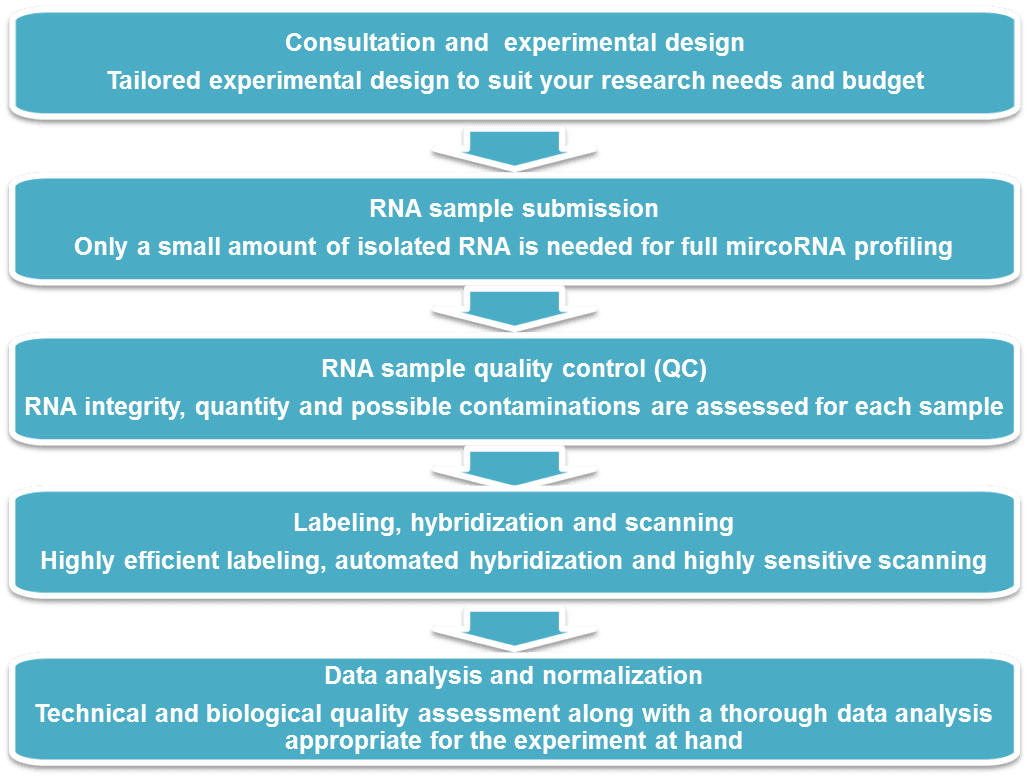 For each array, the customer will receive:
The original and processed microarray scan images
An array layout file
A raw intensity data file in Excel
A fully processed data file in Excel
A list of up and down regulated transcripts that are called based on a statistical analysis
Additionally, for each batch of samples, the customer receives a data summary containing a catalog of data files, images of representative regions of corresponding arrays, and descriptions of specific features of the arrays.
Applications of Our Service
To distinguish expression signatures associated with diagnosis, prognosis and therapeutic interventions
Conducting a genome-wide analysis of miRNA expression of normal and disease samples, such as cancer
Recommendations and Custom Service
Table 1 Agilent miRNA Expression Arrays
| | | | |
| --- | --- | --- | --- |
| Microarray | Format(s) | Detected miRNAs | Database |
| Human miRNA Microarray V19.0 | 8 х 60K | 2006 | Sanger miRBase V19.0 |
| Mouse miRNA Microarray V19.0 | 8 х 60K | 1247 | Sanger miRBase V19.0 |
| Rat miRNA Microarray V19.0 | 8 х 15K | 719 | Sanger miRBase V19.0 |
| Others | - | - | - |
Table 2 Affymetrix miRNA Expression Arrays
| | | |
| --- | --- | --- |
| Microarray | Detected miRNAs | Database |
| GeneChip® miRNA 4.0 Array | mature miRNAs and Pre-miRNA can be detected for humans, mouse, and rat. Human snoRNA and scaRNA can also be detected | Sanger miRBase V17.0 |
Table 3 TaqMan® Array MicroRNA Cards
Microarray
Product Size
Detected miRNAs
Database
TaqMan® Array Human
MicroRNA A+B Cards Set v3.0




8 pack
757
One negative Control
Sanger miRBase V20.0
TaqMan® Array Rodent
MicroRNA A+B Cards Set v3.0
8 pack
644 (mouse)
376 (rat)
One negative Control


Sanger miRBase V20.0
CD Genomics can also help create your custom miRNA microarray. We are ready to help you with your custom array needs, whether it's a standard design or something more creative.
For details, please feel free to contact us with any questions by completing a no-obligation Quote Request.
For Research Use Only. Not for use in diagnostic procedures.