Introduction to CRISPR Screen Sequencing
CRISPR Screen is a high-throughput screening method of important molecular targets. An efficient CRISPR Screen starts with a well-designed sgRNA library targeting the genes or loci of interest. sgRNA are designed based on sequence and then synthesis followed by cloning to vector or transcribing into RNA for transfection in cell system. Then conduct a screen with broadly used positive or negative selection. PCR amplification and massively parallel sequencing will be performed following physical separation of cells into two or more populations. After data analysis, the sgRNA and targeted genes of interest will be identified.
CRISPR Screen technology is used for high-throughput screening, a large number of gene mutant cells can be generated, and the mutant cell library can be screened under the stimulation of different external environments. Through high-throughput sequencing and bioinformatics analysis, the relationship between phenotype and genotype can be further determined. Moreover, the high-throughput screening based on CRISPR/Cas9 library also overcomes the problems of low transfection efficiency and the ability to suppress gene expression only at the mRNA level faced by RNA interference screening technology. It has great scientific research value and broad application space in the era of precision medicine.
To address the emerging needs of research communities, CD Genomics has developed an affordable, reliable, and high-throughput strategy for CRISPR Screen sequencing by harnessing amplicon based next-generation sequencing. Our CRISPR Screen sequencing service can give you direct and detailed information about sgRNA and targeted gene analysis and functional enrichment analysis, to help researchers study genes functions in a high-throughput fashion.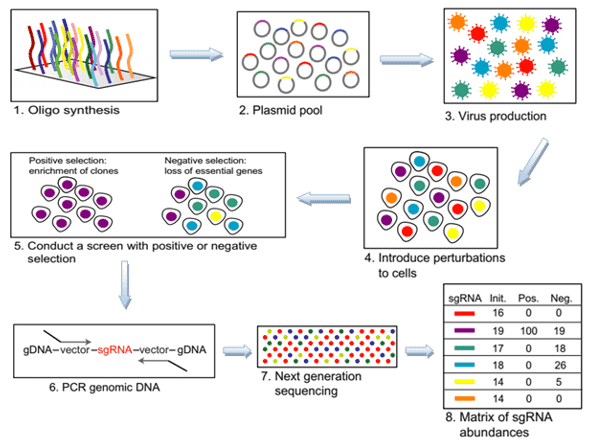 Figure 1. Overview of CRISPR Screening
CRISPR Screen Sequencing Workflow
Our highly experienced expert team executes quality management following every procedure to ensure comprehensive and accurate results. Our CRISPR Screen sequencing workflow is outlined below, including DNA isolation, PCR experiments, sequencing, and bioinformatics analysis. Our CRISPR Screen sequencing also can help researchers to identify which gene knockouts yielded phenotypes relevant to the Screen.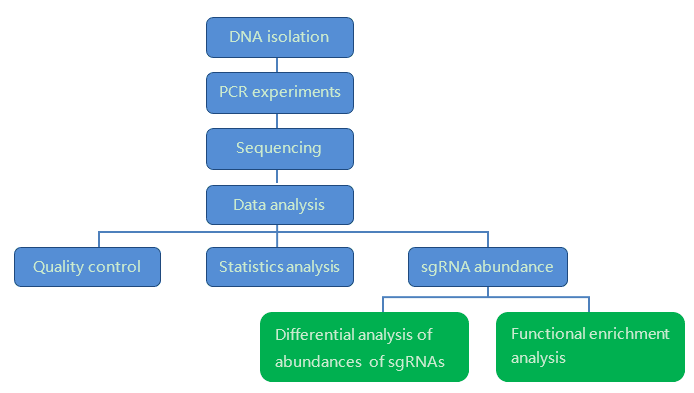 Figure 2. Our workflow of CRISPR Screen Sequencing
Service Specifications
Sample Requirements and Preparation

Samples types: cells or DNA samples after positive/negative selection
DNA sample: ~1.5 μg (concentration ≥ 30 ng/μl; OD260/280=1.8~2.0)
Cell sample: 5×106 cells

Sequencing

Illumina HiSeq platforms
Paired-end 150 bp or 300 bp
Analysis of sequencing quality metrics

Bioinformatics Analysis

We provide customized bioinformatics analysis including:

Raw data QC
Reference alignment
sgRNA abundance analysis
Differential analysis of abundances of sgRNAs

Delivery

Raw data(FASTQ)
Data analysis report
Our Advantages
Extensive multiplexing flexibility and high-throughput sequencing, enables for quantifying and comparing the frequencies of sgRNAs
Cost-effective, and highly sensitive detection levels without bias
No need for laborious and time-consuming cloning steps
Dedicated support from specialized Ph.D.-level scientists
CD Genomics is able to help you to identify the sgRNA and targeted genes of interest and deep sequencing at fairly inexpensive prices. We can sequence hundreds of samples simultaneously. The abundance of sgRNA and the difference between groups will be analyzed with the MAGeCK tool. If you have additional requirements or questions, do not hesitate to contact us.
References:
Ella H, et al. Genetic Screens and functional genomics using CRISPRCas9 technology. FEBS Journal, 2015, 1383-1393.
Zhou Y, et al. High-throughput screening of a CRISPR/Cas9 library for functional genomics in human cells[J]. Nature, 2014, 509(2):487-491.
For Research Use Only. Not for use in diagnostic procedures.