The Introduction of Nanopore
The complexity of short-read second-generation sequencing data assembly and the inability to reliably resolve repeat sequences or large genomic rearrangements were overcome by the third generation of sequencing, they all generate very long reads (1–100kb), which is distinct from next generation sequencing.
In 2014, Oxford Nanopore Technologies released nanopore sequencing in the form of the MinION, a handheld sequencer that uses a grid of membrane-embedded biological nanopores. The membrane in which the nanopores sit provides separation of two ionic solutions allowing an electrical current to flow through the nanopores. Long DNA molecules are prepared by adding a hairpin adaptor to one end of the double-stranded molecule before a helicase, and motor protein attached to the template unwind and thread single-stranded DNA through the nanopore channel. The DNA can be ratcheted through the pore one base at a time, with the nucleotide bases inducing characteristic changes in the electrical current running through the nanopore that are translated to base calls. As the sequencing process uses very few depletable reagents, the run can effectively continue until a satisfactory result is achieved.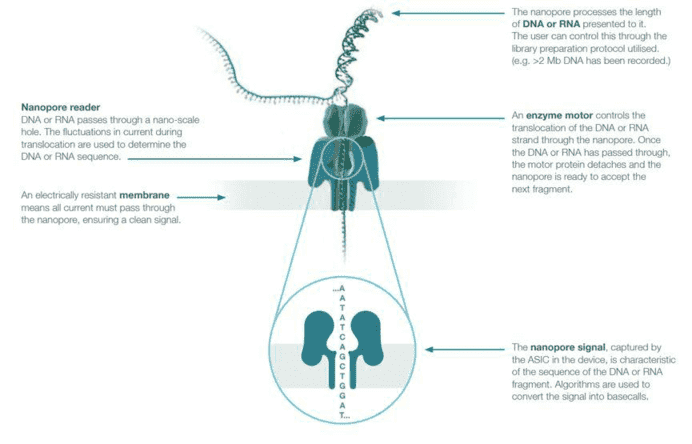 Key Features and Advantages
1. The slightly longer mappable length (> 2 Mb),
2. ONT MinION provides very high throughput as the nanopores can sequence multiple molecules.
3. The cost for ONT data generation is lower.
Since sequencing cost is a significant obstacle of TGS application, the relatively high throughput and affordability makes ONT promising for many applications.
Project Workflow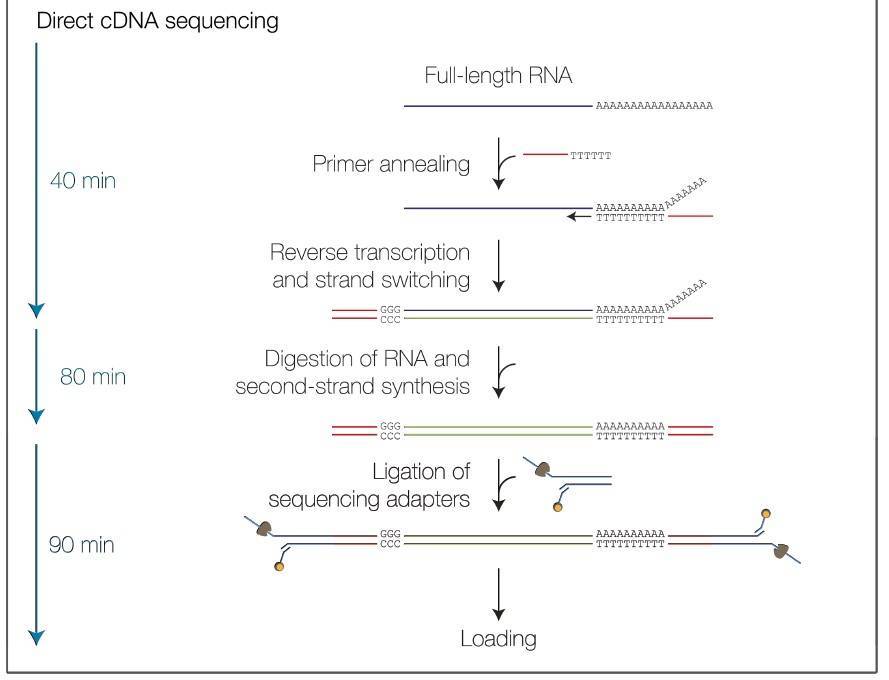 Sample Requirements

Sample species: Human, Rat, Mouse
Sample type: Blood, tissue (<0.5cm3), cell (3 × 106-1 × 107), RNA

Ensure that your RNA sample meets the following criteria:

Average fragment size: ~2 kb
Input mass, as measured by Qubit RNA HS assay: 250 ng
A 260:280 ratio of ~2.0
A 260:230 ratio of 2.0-2.2
No detergents or surfactants in the buffer

Sequencing Strategy

ONT Platforms, Library: 8K,
2G/per sample

Data Analysis

Oxford Nanopore Technologies Long Read Processing
Remove redundant
Find fusion transcript
Structure analysis
Transcription factors prediction
lncRNA analysis
Gene functional annotation
SNP calling
Quantification of gene/transcript expression levels and Differential expression analysis
Functional enrichment analysis
PPI (Protein Protein Interaction)
The long read length ONT is very informative for transcriptome research, especially for gene isoform identification. With expertise and dedication, advanced ONT platform and services from CD Genomics will be your best companion in Full-Length Transcripts Sequencing. Please contact us for more information and a detailed quote.
Reference:
Weirather J L, Cesare M D, Wang Y, et al. Comprehensive comparison of Pacific Biosciences and Oxford Nanopore Technologies and their applications to transcriptome analysis[J]. F1000research, 2017, 6:100.