CD Genomics has CGH microarray service for a number of species, including human, mouse, rat, and chicken, and custom CGH arrays for other species are also available.
Microarray comparative genomic hybridization (CGH) allows a genome wide screening at a high resolution for the detection of previously cryptic copy number imbalance (deletions and duplications). CD Genomics' validated procedures and optimized protocols, combined with high-resolution microarray scanning and powerful analytic software, yield the highest data quality and fastest turn-around time.
Features and Benefits
Flexible and tailor-made solutions for any project
Cost-effective analysis using off-the-shelf catalog or custom arrays
Exceptional study design, data analysis options and support
Peace of mind with complete sample tracking and quality assurance
Rapid delivery of high-quality results using automated sample processing
Workflow of Our Service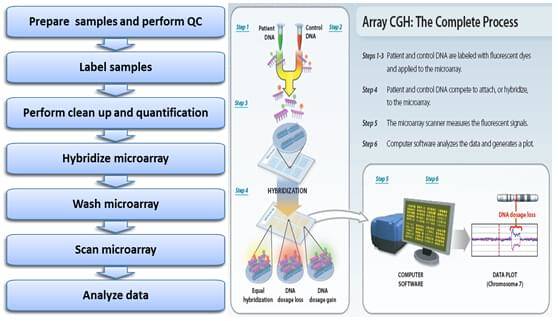 For each array, the customer will receive:
Raw data
Segmentation analysis based on the DNA copy package
Segmentation GFF file
Genome annotation GFF file
Applications of Our Service
Cancer research
Chromosomal aberrations
Recommendations and Custom Service
Table 1 Agilent CGH microarrays
| | |
| --- | --- |
| Organism | Array format(s) |
| Human | 4x44k, 8x60k, 2x105k, 4x180k,1x244k, 2x400k, 1x1M |
| Mouse | 2x105k, 4x180k, 1x244k,1x1M |
| Rat | 2x105k, 4x180k, 1x244k,1x1M |
| Others (please click here) | Please enquire |
CD Genomics can also help create your own custom CGH microarray. We are ready to help you with your custom array needs, whether it's a standard design or something more creative.
For details, please feel free to contact us with any questions by completing a quote request.
For Research Use Only. Not for use in diagnostic procedures.