Underscoring the value of measuring gene expression at the level of translation has led to the development of ribosome-profiling techniques. Ribosome profiling is a direct method for determining the precise mRNA region being read by the ribosome, to examine the transcripts associated with the translation machinery directly. Ribosome profiling providing a cellular snapshot of protein production, with the potential to inform nearly every domain of biological and clinical research. Compared with traditional RNA-Seq experiments, ribosome profiling is designed specifically to measure mRNA involved inactive translation.
CD genomics provides a ribosome-profiling strategy that is based on the deep sequencing of ribosome-protected mRNA fragments and enables genome-wide investigation of translation with sub cordon resolution. Using nuclease digestion, the ribosome position and the translated message can be precisely determined by analyzing the protected ~30-nt area of the mRNA template.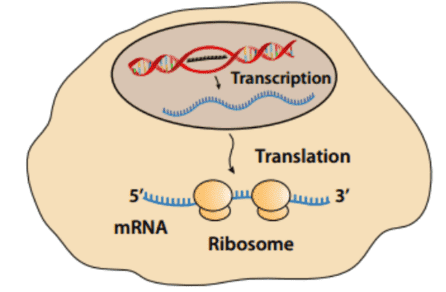 Fig.1 Ribosome-protected mRNA
Application of Ribosome Profiling
Sequences of ribosome-protected mRNA.
The study of active mRNA translation with sequencing.
Prediction of protein abundance.
Identify translation start sites
Investigation of transcriptional control and post-transcriptional regulation.
Ribosome Profiling Workflow
Using nuclease digestion to isolate nuclease-resistant ribosome, the translated message can be precisely determined by analyzing the protected 30 nucleotides during translation.
Sample Requirements
Frozen cell or tissue samples
Sequencing
Illumina High throughput sequencer
Flexible service options,single-end or paired-end sequencing, optional reads number according to research goals.
Data analysis
Raw data QC and 3'-adaptor trimming
Read Alignment
Gene Expression analysis
Alternative Translation Initiation Site identification
Pathway analysis
For Research Use Only. Not for use in diagnostic procedures.