The Introduction of AAV Sequencing
During the past decades, recombinant adeno-associated virus (rAAV) vectors are increasingly popular gene delivery tools in biological systems, these represent one of the most potent, most versatile, and thus most auspicious platforms available for gene delivery into cells, animals and, ultimately, humans. In addition, rAAVs are relatively easily produced in a well-equipped lab or obtained from a viral vector core facility. Unfortunately, there is no standardization of quality control assays beyond titering and purity assessments.
CD Genomics' one-stop solutions can be easily used for rAAV applications, providing streamlined approaches for rAAV cell & gene therapy research. Other than Sanger sequencing, CD Genomics can also provide high-throughput platforms by using short-read (Illumina) and long-read (PacBio) whole genome sequencing for rAAV genome sequencing to confirm difficult ITR regions for screening and validation of lead candidates, and to examine genome integrity, detect heterogeneity and identify DNA contaminants in AAV library preparation. We ensure to deliver the highest quality data and reliable data analysis report.
Key Features and Advantages
Multiplex samples for cost-effective results.
Effective workflow and fast turnaround time.
Qualitative and quantitative analysis.
Comprehensive bioinformatics analysis.
Multiple approaches to meet different goals.
Project Workflow
Our highly experienced expert team executes quality management following every procedure to ensure comprehensive and accurate results. Our AAV sequencing workflow is outlined below, including library prep, sequencing, and bioinformatics analysis.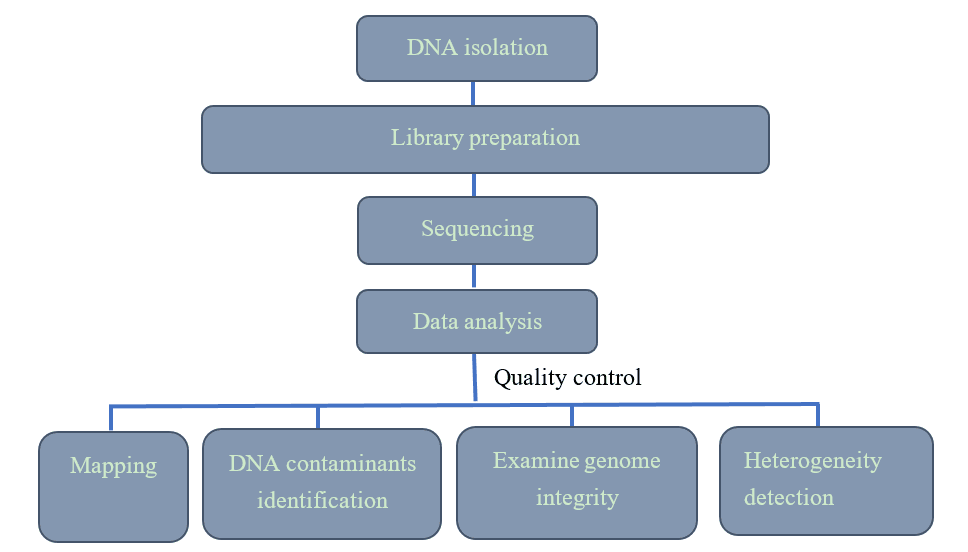 Figure 1. AAV sequencing workflow
Service Specifications
Sample Requirements

gDNA sample≥500ng for Illumina platform sequencing
gDNA sample≥5ug for PacBio platform sequencing

Sequencing

Illumina PE150 Platform, 10Gb data output
PacBio platform, 7-10K CCS reads

Bioinformatics Analysis
We provide customized bioinformatics analysis including:

Data quality control
Alignment to plasmid sequence and host reference genome
Examine genome integrity
Heterogeneity detection
DNA contaminants identification
CD Genomics has established Sanger sequencing and high-throughput platforms by using short- and long-read whole genome sequencing for AAV genome sequencing to examine genome integrity, detect heterogeneity and identify DNA contaminants in AAV library preparation. We are pleased to use our extensive experience and advanced platform to offer the best service and the most qualified products to satisfy each demand from our customers.