Lentiviral/Retroviral Integration Site Sequencing
---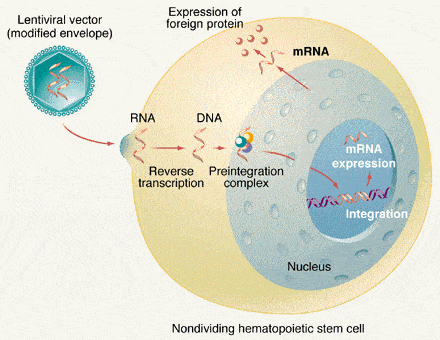 The Importance of Identification of Lentiviral Integration Sites
Lentiviral vectors are the most common gene delivery vehicle used for stable genetic modification of cells. The vectors integrate into the host's genome, expressing therapeutic transgene. However, the RNA genome of lentivirus is first reverse transcribed to DNA and then integrated into the cell genome in a seemingly random fashion, although some literature suggests that lentiviral integration has certain hotspots. To avoid lentiviral integration affecting cellular function when the integration happens near oncogenes or within key genes, identification of the exact site of lentiviral integration should be performed after lentiviral infections of target cells. The selected integration site has important consequences for both the expression of the transgene and the phenotype of the host cell.
Request a Quote
Our Solution for Identification of Lentiviral Integration Sites
We provide lentivirus/retrovirus integration site sequencing on the Illumina platform to identify the lentiviral/retroviral integration sites in your lentiviral/retroviral infected cells using targeted sequence capture and next-generation sequencing (NGS). This next-generation sequencing (NGS)-based approach has been proven to be specific and sensitive to lentiviral vectors. Our one-stop service starts with primers design and libraries construction to paired-end (PE) sequencing and bioinformatics analysis. We ensure to deliver the highest quality data and reliable data analysis report.
Our Advantages
Multiplex samples for cost-effective results.
Effective workflow and fast turnaround time.
Sequencing scale: 4 million PE reads per sample.
Comprehensive bioinformatics analysis.
Compatible with nearly all commercially available retrovirus vectors.
What Can We Do?
1. Identification of lentiviral/retroviral integration sites in your lentiviral/retroviral infected cells.
2. Quantification of the numbers and types of gene-modified cell clones.
3. Monitor experiments using insertional mutagens and mechanistic studies of DNA integration.
Note: Our service is for research use only, not for disease diagnosis or treatment.
Detectable Objects
Any retroviral infected cells.
Detection Methods
NGS (Illumina HiSeq/MiSeq), targeted PCR amplification, bioinformatics analysis.
Sample Requirement
RDNA sample: ≥ 100 ng, OD260/280 = 1. 8 - 2. 0, concentration ≥ 10 ng/μl,
Ensure the DNA is purified, not degraded.
Must provide gDNA for infected cell lines and control (non-infected) cell lines.
Transport nucleic acid samples with sufficient ice packs or dry ice.
Workflow
Figure 1. The high-throughput sequencing analysis process.
Bioinformatics Analysis
Our bioinformatics analysis pipeline is flexible to your needs.
| Pipeline | Details |
| --- | --- |
| Read mapping | Sequence quality filtering, trimming of DNA sequences, align sequence data to the genome of interest, identification of junction reads. |
| Integration site calling | Identification and annotation of lentiviral integration sites, visualization of integration site datasets. |
| Estimation of clonal abundance | Estimation of clonal abundance using the IntSiteDB database that contains genomic locations of integration sites, PCR breakpoints, and their counts. |
| Custom analyses | Other bioinformatics analyses are available upon your request, such as the comparison with oncogene annotation. |
Reference
Berry C C, Nobles C, Six E, et al. INSPIIRED: quantification and visualization tools for analyzing integration site distributions. Molecular Therapy-Methods & Clinical Development, 2017, 4: 17-26.
* For Research Use Only. Not for use in diagnostic procedures or other clinical purposes.
Copyright © 2023 CD Genomics. All rights reserved. Terms of Use | Privacy Notice