Industrial Microbiology Solutions
---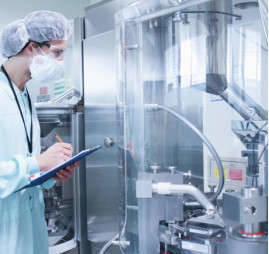 THE IMPORTANCE OF MICROORGANISMS ROLES IN INDUSTRY
Microorganisms play important roles in a wide range of industries, such as food & beverage, pharmaceutical, and cosmetic industries. Industrial microbiology is a branch of biotechnology that takes advantage of microbes to produce industrial products. For example, anaerobic sugar fermentation reactions create diverse end products, such as beer, vinegar, fuel, and organic compounds. Microbial contamination is of great importance to industries since it may become a major cause of economic losses. Therefore, microorganisms need to be well characterized and controlled in every step of manufacturing process. We apply advanced approaches (microbial culturing and isolation, biochemistry, PCR, qPCR, genotyping, and sequencing) to provide quick and reliable microbial services, including microbial identification, microbial diversity analysis, and functional microbial genomics research for industry.
Request a Quote
ACCELERATE YOUR INDUSTRIAL PRODUCTION AND INNOVATION
CD Genomics is dedicated to providing reliable and affordable microbial testing and research services for pharmaceutical, veterinary drug, food & beverage, and cosmetic industries. Our methods primarily include microbial diversity analysis, whole-genome sequencing, transcriptome sequencing, metagenomics, metatranscriptomics, comprehensive bioinformatics analysis, and other novel molecular biological approaches.
Pharmaceutical industry

CD Genomics provides a wide range of microbial control and research solutions for pharmaceutical and veterinary drug industries, and biotechnology.

Microbial environmental monitoring, including microbial monitoring of air and surfaces.
Validated, quick microbial identification, quantification, and genotyping
Microbial genomics approaches for pharmaceutical innovations

CD Genomics provides a complete list of microbial solutions for food and beverage industry.

Pathogenic bacteria testing, including Salmonella, Listeria, E.coli, Campylobacter, Vibrio, C. sakazakii, and novel pathogens.
Indicator bacteria count (such as coliforms, E.coli, S.aureus, enterobacteriaceae, yeasts, mildew) and total bacteria count
Strict microbial identification and genotyping in food & beverage samples
Water and environmental monitoring
Microbial genomics research for microbial engineering and development of novel products

Learn More

Cosmetic industry

CD Genomics offers a wide spectrum of microbial solutions for cosmetic industry.

Rapid, validated microbial identification and genotyping in cosmetic samples (harmful bacterial indicators include Streptococcus, Penicillium, Rhodotorula, Candida, Pseudomonas, Pseudomonas, Bacillus, Staphylococcus, Salmonella, Klebsiella, etc.)
Strict microbial monitoring, including water, materials, and production environment
Microbial sequencing approaches for development of probiotic skin-care products
Comprehensive Solutions Accelerate Your Industrial Practice
We are committed to supporting our customers' research on industrial microbiology by using the following platforms. We have extensive expertise to handle all types of industrial microbiome samples from water, raw materials, products, environment and so on. We choose suitable microbial genomics solutions based on your experimental purpose, and the deliverables include: original data, experimental results, data analysis report and details for writing.
SERVICES
Copyright © 2023 CD Genomics. All rights reserved. Terms of Use | Privacy Notice