Eukaryotic 18S rRNA Sequencing
Eukaryotic 18S rRNA Sequencing
---
Our eukaryotic 18S rRNA sequencing determines the specific 18S ribosomal RNA (rRNA) genes of eukaryotes and yeast using the next-generation sequencing (NGS) and long-read sequencing platforms. This service helps reveal the microbial community structure, evolutionary relationship of eukaryotes, and the correlation between eukaryotes and the environment.
Our Advantages:
Three sequencing platforms: Illumina PE250/300, Nanopore platforms, and PacBio platforms.
Long-read sequencing can deliver full-length 18S rRNA sequences without the need for assembly.
Decades of experience in microbial genomics services.
Tell Us About Your Project
We are dedicated to providing outstanding customer service and being reachable at all times.
Request a Quote
Introduction to our eukaryotic 18S rRNA sequencing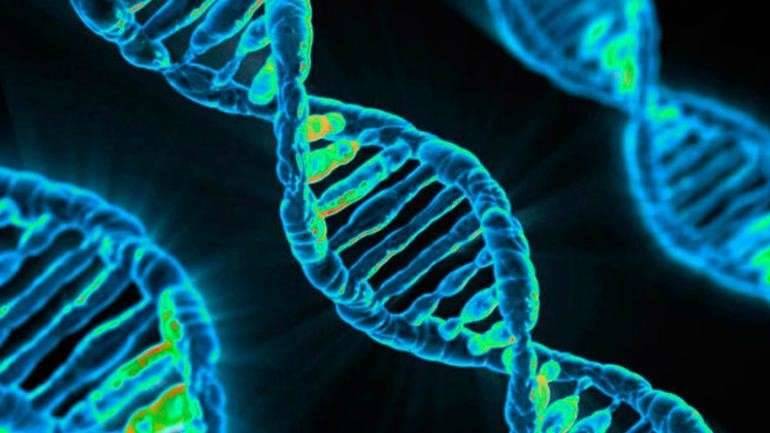 The 18S rRNA gene is a conserved component of eukaryotic genomes. It contains both conserved and variable regions (V1 to V9 except V6, which does not exist due to relative conservation), which can reflect the differences among eukaryotic species such as fungi. 18S rRNA sequencing remains a gold standard for eukaryotic molecular phylogeny. Our integrated 18S rRNA sequencing platform analyzes 18S rRNA genes accurately using a combination of advanced sequencing technologies and quantitative PCR (q-PCR). This platform allows short-read 18S rRNA sequencing by NGS (Illumina PE250/300) or full-length 18S rRNA sequencing by PacBio SMRT sequencing or Nanopore sequencing. Long-read sequencing technologies break the limitation of read length and provide more accurate species-level identification. Quantitative PCR can be used to quantify microbial species and validate sequencing data. Additionally, we also provide fungal ITS sequencing for fungal diversity analysis.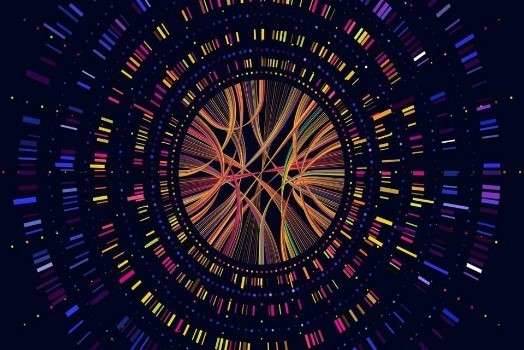 18S rRNA gene sequencing is commonly used to identify, classify, and quantify microbes within complex biological mixtures such as samples collected from the environment and gut. A phylogenetic tree can be constructed using various eukaryotic 18S rRNA gene sequences for the analysis of eukaryotes genetic diversity and evolutionary relationships. As eukaryotic microbes play important roles in scavengers, predators, producers, and parasites in most ecological settings, 18S rRNA sequencing is a robust tool to better understand the ecosystems through analysis of eukaryotic taxonomy, evolution, ecology, and diversity. 18S rRNA sequencing can also be used to identify eukaryotes associated with human/animal disease.
Eukaryotic 18S rRNA sequencing workflow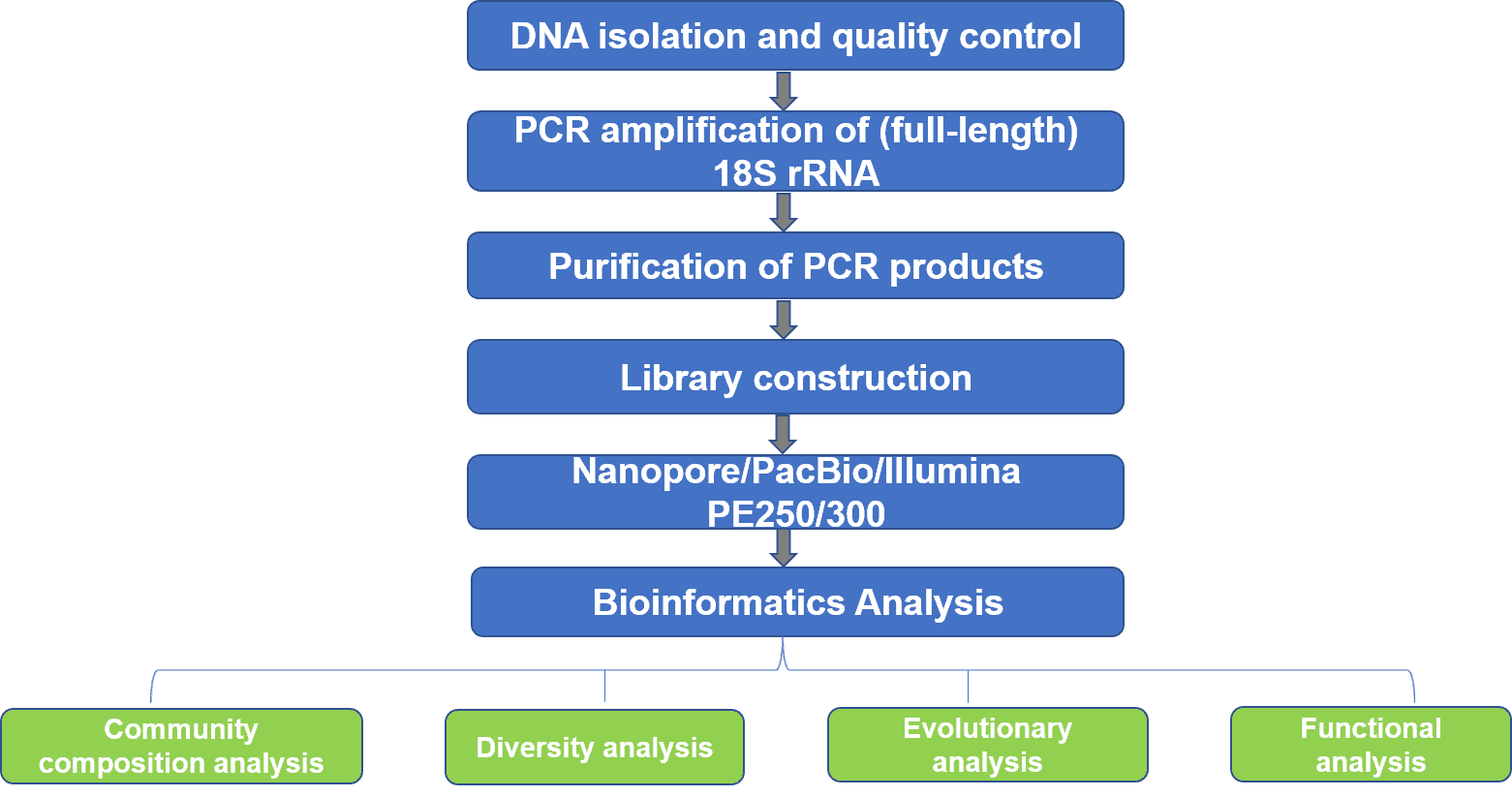 Bioinformatics Analysis
Our bioinformatics analysis includes five parts: community composition analysis, diversity analysis, evolutionary analysis, functional analysis, and other analyses. We are flexible to your needs.
| Bioinformatics analysis | Details |
| --- | --- |
| Community composition analysis | OUT clustering, Species annotation, heatmap, taxonomic tree, etc. |
| Diversity analysis | α diversity, β diversity, meta-analysis |
| Evolutionary analysis | Construction of phylogenetic trees, estimation of genetic distance |
| Functional analysis | PICRUSt, FAPROTAX, Tax4fun, FunGuild, LDA, LEfSe |
| Other analyses | VPA analysis, RDA/CCA, network analysis, etc. |
Sample Requirement
1.8 < OD260/280 < 2.0, concentration ≥ 20 ng/μL.
Illumina platform: DNA amount ≥ 300 ng, PCR products amount ≥ 400 ng
PacBio platform: gDNA ≥ 100 ng, PCR Products ≥ 400 ng
Sampling kits: We provide a range of microbial sampling kits for clients, including MicroCollect™ oral sample microbial collection products and MicroCollect™ stool sample collection products.
Deliverables: Raw sequencing data (FASTQ), trimmed and stitched sequences (FASTA), quality-control dashboard, q-PCR data, statistic data, and your designated bioinformatics report.
Reference
Wang Y, Tian R M, Gao Z M, et al. Optimal eukaryotic 18S and universal 16S/18S ribosomal RNA primers and their application in a study of symbiosis. PloS one, 2014, 9(3): e90053.
* For Research Use Only. Not for use in diagnostic procedures or other clinical purposes.
Copyright © 2023 CD Genomics. All rights reserved. Terms of Use | Privacy Notice