Antibiotic Resistance Genes Screening
Antibiotic Resistance Genes Screening
---
Antibiotic resistance has been a threat to the global health concern. Antibiotic-resistance bacteria can acquire antibiotic resistance genes (ARGs) due to selective pressure. CD Genomics is offering efficient, accurate, genome-based analysis of antibiotic resistance gene screening services, to locate ARGs, identify novel ARGs, and reveal the molecular mechanism underlying ARGs transfer.
Our Advantages:
Whole-genome sequencing and powerful bioinformatics analysis
Multiple samples can be sequenced at a time with a streamlined workflow suitable for automation.
State-of-the-art sequencing platforms are available like Illumina HiSeq/MiSeq, Nanopore MinION, and PacBio Sequel.
Delivery of robust sequencing and data analysis results.
Tell Us About Your Project
We are dedicated to providing outstanding customer service and being reachable at all times.
Request a Quote
Introduction to our antibiotic resistance genes screening platform
One emerging issue relating to the antibiotics is the development of antimicrobial resistance (AMR). Efforts have been devoted to elucidating the molecular mechanisms of the antibiotic resistance. However, the traditional microorganism screening methods for antibiotic resistance can be very laborious and time-consuming. CD Genomics has the ability to screen ARGs efficiently using the whole-genome sequencing (WGS) and bioinformatics analysis. We can determine which ARGs are present in your microbial strains, discover novel ARGs, identify mobile genetic elements that promote the transfer of ARGs to other microorganisms, and assess the safety of your bacterial strains.
More than 1,000 types of ARGs  have been identified that are responsible for the resistance of hundreds of antibiotics. Knowledge on the ARGs can help us understand how the antibiotics work and how the bacteria fight back. Our antibiotic resistance genes screening platform can serve in many antimicrobial applications such as diagnostic tests, new antibiotics development, the management and modification of existing antibiotics, and revealing the factors that promote the emergence and resistance of pathogenic microbes.
Project Workflow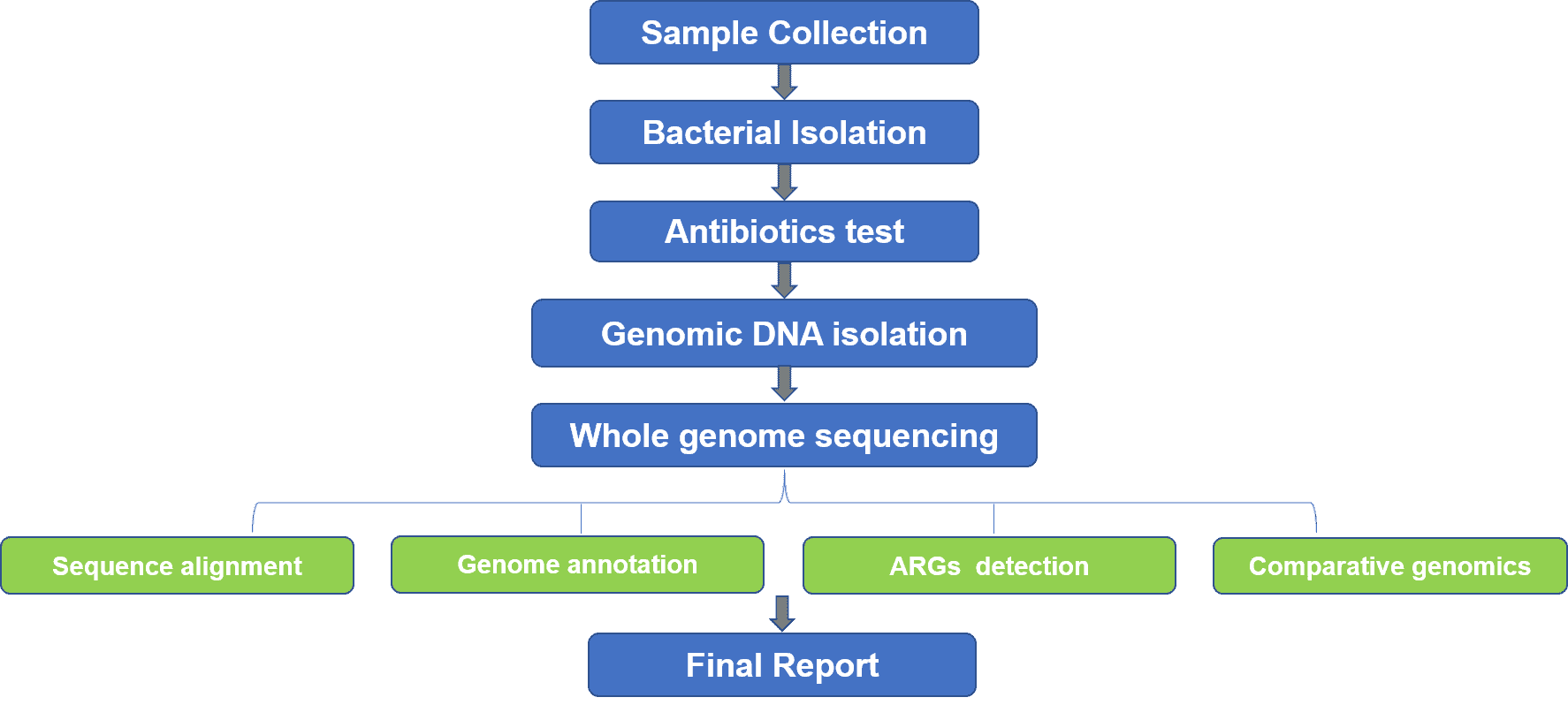 Bioinformatics Analysis
We have a standard bioinformatics pipeline for antibiotic resistance genes screening, however, we can also customize the bioinformatics pipeline to your needs.
| Pipeline | Details |
| --- | --- |
| Sequence alignment | Raw data filtering and trimming, sequencing coverage, sequence alignment, and genome assembly |
| Genome annotation | Open reading frames (ORFs) annotation and comparative gene clusters analysis using tools like RAST |
| ARGs detection | Reveal distribution and localization of ARGs, discover novel ARGs; visualization of ARGs |
| Comparative genomics | Reveal molecular mechanisms of the evolution of resistant strains |
Sample Requirement
DNA: 1.8 < OD260/280 < 2.0, no degradation or contamination
Illumina platform: (for each strain) bacterial DNA amount ≥ 2 μg
PacBio platform: (for each strain) bacterial DNA amount ≥ 5 μg
Please ensure samples are well-sealed and packaged during transport
Sampling kits: We provide a range of microbial sampling kits for clients, including MicroCollect™ oral sample microbial collection products and MicroCollect™ stool sample collection products.
Deliverables: Raw sequencing data (FASTQ), quality-control dashboard, visualization of ARGs, and your designated analysis report.
Reference
Abdelgader S A, Shi D, Chen M, et al. Antibiotics Resistance Genes Screening and Comparative Genomics Analysis of Commensal Escherichia coli Isolated from Poultry Farms between China and Sudan. BioMed research international, 2018, 2018.
* For Research Use Only. Not for use in diagnostic procedures or other clinical purposes.
Copyright © 2023 CD Genomics. All rights reserved. Terms of Use | Privacy Notice