November 5, 2018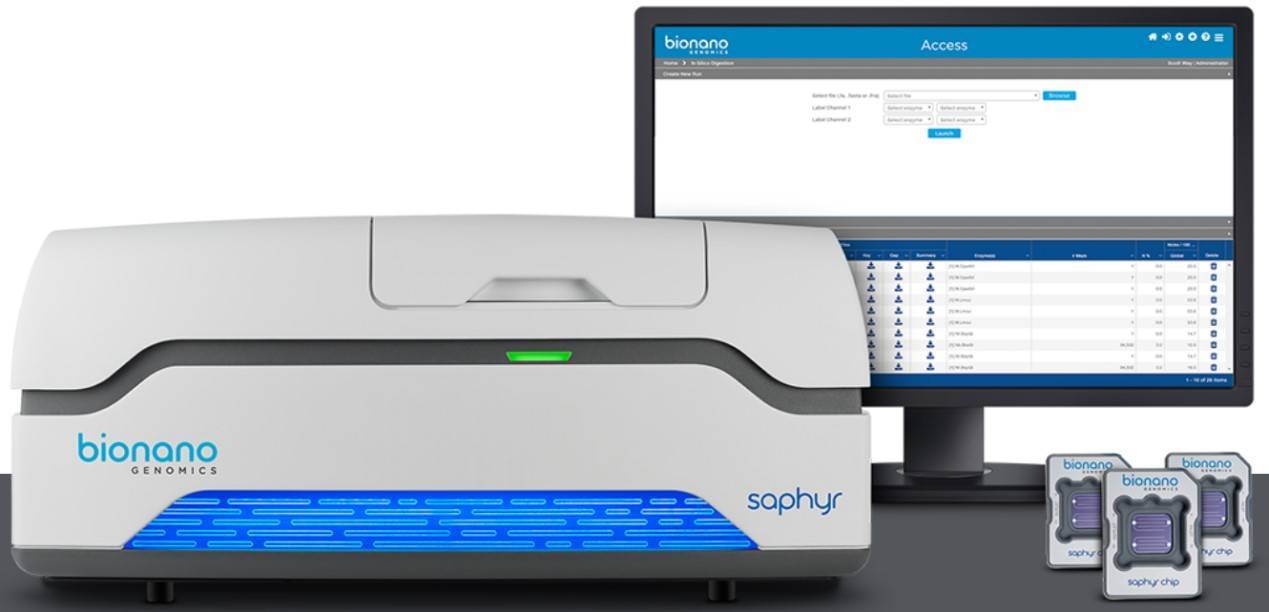 At Bionano Genomics®, they are committed to unlocking understanding of genome biology to advance the promise of genomics in areas including cancer and human disease, agricultural bioengineering and genome discovery.
The next-generation mapping (NGM) and analysis tools help researchers see true genome structure to fill in what's missing from sequencing-based data. Saphyr™, BioNano Genomics's third-generation optical mapping solution, provides rapid, high-throughput, long-range genome mapping with unmatched structural variation discovery capabilities and the ability to construct the most complete genome assemblies.
Saphyr Workflow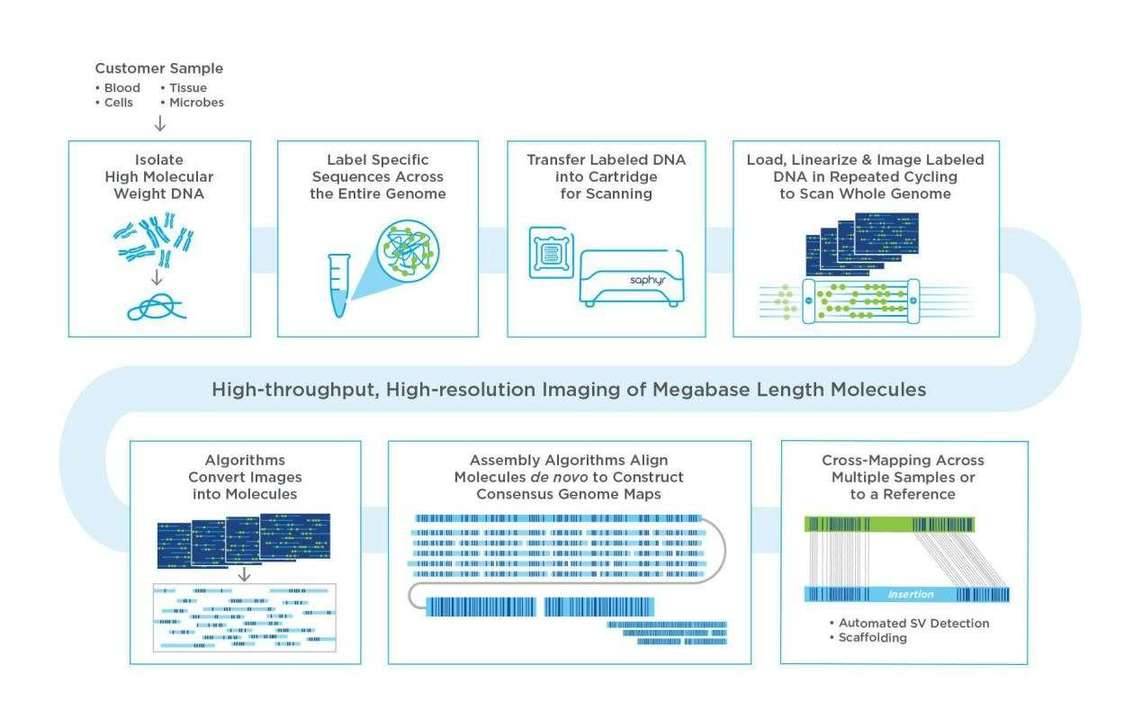 Saphyr Advantages
Structural Variation Discovery Platform

Saphyr detects structural variations ranging from 500 bp to megabase pairs in length and offers assembly and discovery algorithms that far outperform sequencing-based technologies in sensitivity. Saphyr provides this performance typically with a false positive rate of less than 2%. Saphyr also calls repeats and complex rearrangements.

Enhanced Speed and Throughput

Saphyr features enhanced optics with adaptive loading of DNA utilizing machine learning. The Saphyr instrument and high-capacity Saphyr chip combine to deliver genome maps at the speed and scale the research demands.

Long molecules from 100,000 bp to megabase pairs
Guaranteed 640 Gbp throughput per Saphyr chip per day for human samples for deep structural variant discovery (320 Gbp per flowcell of molecules larger than 150 kbp)
Sample to structural variation call or genome scaffolding in as little as 5 days

Simplified Workflow

Saphyr offers automated features that minimize hands-on time, while upgradable components ensure Saphyr delivers value over the long term.

Requires less than 3 minutes hands-on instrument time per chip
Automatic optimization of run conditions based on sample characteristics maximizes throughput
Saphyr Chip Clip protects sample integrity and eliminates the need for instrument wash cycles between runs

Flexible Mapping Options

Generate high-resolution physical genome maps with greater speed and coverage at a lower cost. Saphyr can run most genomes in a single flowcell, in just one day. With Saphyr Chip's dual-flowcell design, you have the power to generate two independent maps from one sample, with two enzymes, and combine the data.

Improve contiguity of sequence assemblies even more than with single enzyme scaffolding
Use the two maps generated per chip to correct assembly errors with greater accuracy
The two flowcells can run entirely unrelated samples as well, allowing you to map two genomes in a single 24 hour run.
More info at:bionanogenomics.com/technology/platform-technology/