October 1, 2019
Xiaojing Wang, Haiying Liang, Dalong Guo, Lili Guo, Xiangguang Duan, Qishi Jia & Xiaogai Hou
Horticulture Research volume 6, Article number: 111 (2019)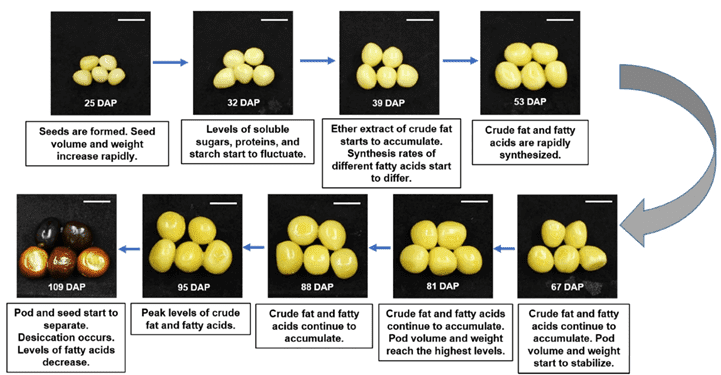 Abstract
Tree peony (Paeonia section Moutan DC.) seeds are an excellent source of beneficial natural compounds that promote health, and they contain high levels of alpha-linolenic acid (ALA). In recent years, tree peony has been emerging as an oil crop. Therefore, combined analysis of the transcriptome and proteome of tree peony (P. ostii) seeds at 25, 32, 39, 53, 67, 81, 88, 95, and 109 days after pollination (DAP) was conducted to better understand the transcriptional and translational regulation of seed development and oil biosynthesis. A total of 38,482 unigenes and 2841 proteins were identified. A total of 26,912 differentially expressed genes (DEGs) and 592 differentially expressed proteins (DEPs) were clustered into three groups corresponding to the rapid growth, seed inclusion enrichment and conversion, and late dehydration and mature stages of seed development. Fifteen lipid metabolism pathways were identified at both the transcriptome and proteome levels. Pathway enrichment analysis revealed that a period of rapid fatty acid biosynthesis occurred at 53–88 DAP. Furthermore, 211 genes and 35 proteins associated with the fatty acid metabolism pathway, 63 genes and 11 proteins associated with the biosynthesis of unsaturated fatty acids (UFAs), and 115 genes and 24 proteins associated with ALA metabolism were identified. Phylogenetic analysis revealed that 16 putative fatty acid desaturase (FAD)-encoding genes clustered into four FAD groups, eight of which exhibited the highest expression at 53 DAP, suggesting that they play an important role in ALA accumulation. RT-qPCR analysis indicated that the temporal expression patterns of oil biosynthesis genes were largely similar to the RNA-seq results. The expression patterns of fatty acid metabolism- and seed development-related proteins determined by MRM were also highly consistent with the results obtained in the proteomic analysis. Correlation analysis indicated significant differences in the number and abundance of DEGs and DEPs but a high level of consistency in expression patterns and metabolic pathways. The results of the present study represent the first combined transcriptomic and proteomic analysis of tree peony seeds and provide insight into tree peony seed development and oil accumulation.
More info at: https://www.nature.com/articles/s41438-019-0194-7
For Research Use Only. Not for use in diagnostic procedures.