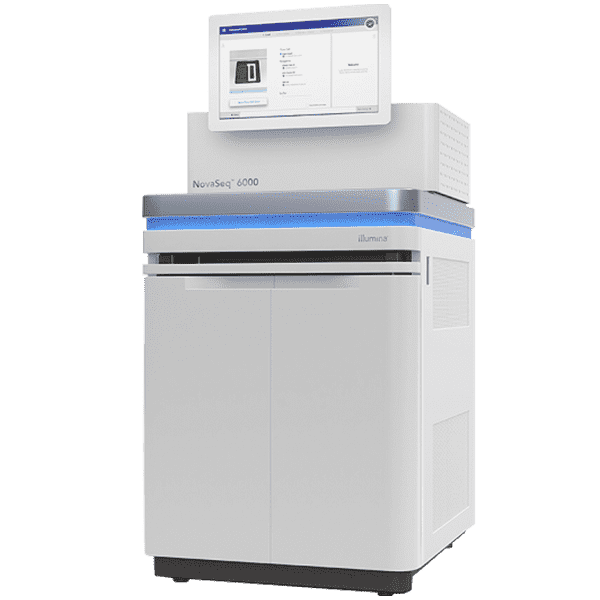 In 2017, Illumina announced new sequencers, NovaSeq 6000, that could potentially reduces the cost of human genome sequencing to $100 in the future. NovaSeq is assembled with a new set of flowcells: S1, S2, S3, and S4. Both the systems can work with either one or two flow cells. In addition, NovaSeq 6000 can do 2×50 bp, 2×100 bp, and 2×150 bp read length using flow cells S1 and S2, pretty similar to the existing Illumina machines.
The NovaSeq 6000 System unleashes a new era in sequencing with groundbreaking innovations, providing users with the throughput, speed, and flexibility to complete projects faster and more economically than ever before, which are built from the ground up, offers scalability and flexibility for any type of sequencing, either large scale or targeted sequencing.
The NovaSeq Series lets you take your research further with a wide range of projects sizes for diverse applications—all on a single system. This platform redefines high throughput sequencing with unrivaled throughput, ease of use, low per sample costs, and unmatched flexibility. Whether you are interested in higher output applications for larger-scale projects or lower output applications for smaller-scale projects, the NovaSeq Series will empower you with new possibilities. Watch whole-genome and whole-exome sequencing demonstrations and learn how the NovaSeq Series can meet your lab's evolving needs
Highlights:
Scalable Throughput. The NovaSeq 6000 System offers high-throughput sequencing across a broad range of applications. Meet your research needs with unprecedented throughput at the lowest cost per sample
Highly Flexible. Match data output to project needs. With the ability to choose from 4 different flow cell types, the output can be configured to match your application and project. One, or two, independently operated flow cells can be easily loaded into place to fit your evolving needs.
A board range of application. High-quality, high-coverage sequencing offers a comprehensive view of the genome to detect variants accurately, characterize isoforms, and more. The NovaSeq 6000 System allows you to adapt the run to meet your study's specific needs. Whether exploring the genome, epigenome, or transcriptome, the possibilities for your research are endless.
HiSeq X System Performance Parameters
Flow cell type
SP
S1
S2
S4
Lanes per flow cell
2
2
2
2
Output per flow cell
2×50 bp
65-80 Gb
134-167 Gb
333-417 Gb
N/A
2×100 bp
N/A
266-333 Gb
667-833 Gb
1600-2000 Gb
2×150 bp
200-250 Gb
400-500 Gb
1000-1250 Gb
2400-3000 Gb
Single reads
0.65-0.8 B
1.3-1.6 B
3.3-4.1 B
8-10 B
Paired-end reads
1.3-1.6 B
2.6-3.2 B
6.6-8.2 B
16-20 B
Quality scores
2×50 bp
≥ 85%
2×100 bp
≥ 80%
2×150 bp
≥ 75%
Run time
2×50 bp
~13 hr
~13 hr
~16 hr
N/A
2×100 bp
N/A
~19 hr
~25 hr
~36 hr
2×150 bp
~25 hr
~25 hr
~36 hr
~44 hr