With decades of experience in the fields of genomics sequencing, CD Genomics is devoted to providing unprecedented amounts of microbial metatranscriptomic data. Our strong expertise in the informative and unbiased metatranscriptomic sequencing service is guaranteed by state-of-the-art high throughput sequencers, flexible sequencing strategies, and professional bioinformatics pipelines.
The Introduction of Metatranscriptomic Sequencing
Metatranscriptomics is the culture-independent profiling (including protein-coding and non-coding DNA) of microbial community-wide gene expression, which is capable of monitoring RNA-based regulation and expressed biological signatures of complex bacterial communities in a given sample at a given moment and under specific conditions. It elucidates three aspects of a microbial community, including gene activity diversity, gene expression abundance, and differential gene expression analysis. The gene expression analysis can tell which genes exhibit the highest change in expression levels in different conditions potentially to identify biomarkers and expression signatures.
While metagenomics shows us the microbial species present in the community and their genomic potentials, metatranscriptomics presents the function and activity of the complete set of transcripts, as well as community structure. Metatranscriptomics offers a more informative perspective compared with metagenomics in revealing active biochemical functions, which has become a focus for applications in the environmental, medical, and energy fields as well as the field of drug discovery.
Advantages of Metatranscriptomic Sequencing
A culture-free method to reveal the true extent of microbial diversity
Permitting function-based activity screens
More targeted than shotgun random sequencing
Cost-efficient and time-effective
A wide range of applications, including basic research, ecological applications, clinical applications, industrial applications, and so on
Metatranscriptomic Sequencing Workflow
Our highly experienced expert team executes quality management following every procedure to ensure confident and unbiased results. The general workflow for metatranscriptomic sequencing is outlined below. After RNA isolation from qualified samples, rRNA depletion, library construction, high-throughput sequencing, and bioinformatics analysis are in turn performed. We can help you make decisions on the library construction method, the depth of coverage, and the data analysis strategies based on your research aims.

Service Specifications
Sample requirements and preparation

Samples sources including environmental and clinical samples, RNA and cDNA samples
The recommended total RNA amount for submission is 6 µg or more with a concentration of greater than 50 ng/µl
The general workflow consists of sample quality control, RNA isolation, purification and qualification; library construction (including fragmentation, end repair, 5' adaptor ligation, random primer tags and RT-PCR), and library qualification control.

Sequencing

HiSeq platforms, PE125/150, MGI DNBSEQ-T7/DNBSEQ-G400
5Gb raw data per sample (10G if eukaryotic data are included)
More than 80% of bases with a ≥Q30 quality score
PacBio's SMRT technology is also available for long fragment sequencing, which provides more accurate contiguous sequences.

Bioinformatics Analysis
We provide multiple customized bioinformatics analyses:

Two assembly strategies: de novo assembly or mapping reads to reference genomes
Raw data quality control, unigene clusterings assembly and analysis
The unigene clusterings analysis consists of functional annotations (such as GO and KEGG annotations), gene expression levels (including unigene abundance and coverage analysis, differential expression analysis, and unigene quality evaluation), and structure identification (such as coding SNPs, SSRs, and ORFs)
More data mining upon your request
Analysis pipeline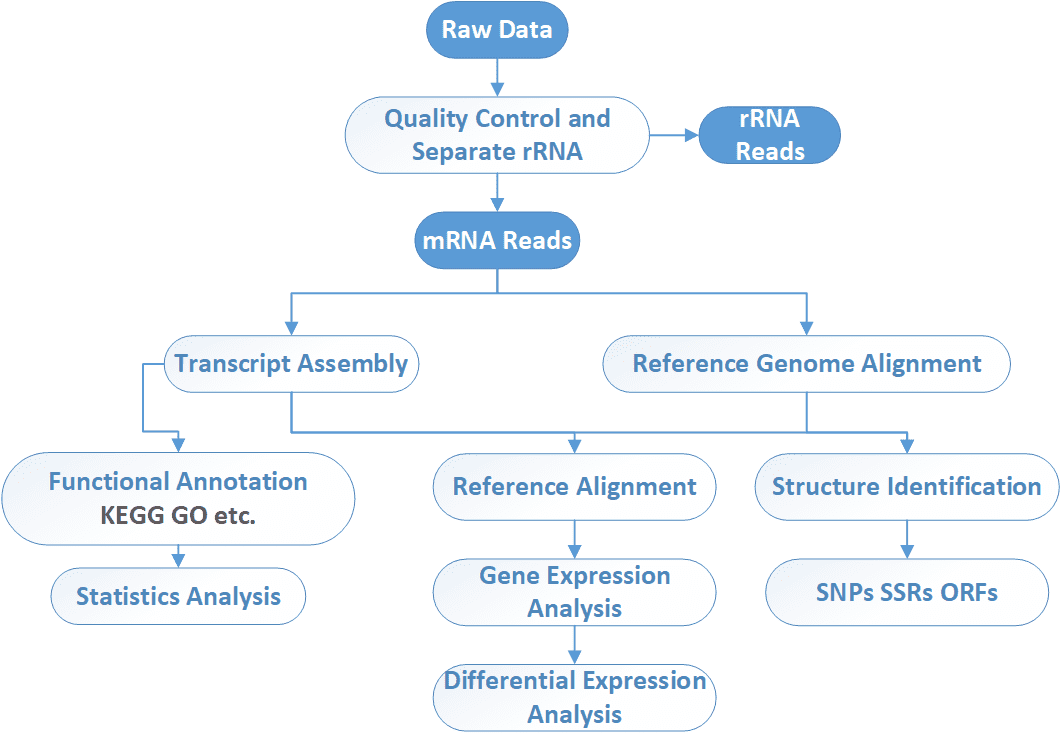 CD Genomics provides full metatranscriptomic sequencing service package including sample standardization, library construction, Hiseq sequencing, raw data alignment, down-stream bioinformatics processing and statistical analysis. We can tailor this pipeline to your research interest. If you have additional requirements or questions, please feel free to contact us, our specialists are more than happy to assist you.
Reference:
Warnecke F, Hess M. A perspective: metatranscriptomics as a tool for the discovery of novel biocatalysts. Journal of Biotechnology, 2009, 142(1): 91-95.
* For Research Use Only. Not for use in diagnostic procedures.