As a leading provider of NGS services and a partner of Illumina, CD Genomics offers a portfolio of solutions for metagenomics sequencing. 16S/18S/ITS amplicon sequencing is characterized by cost-efficiency, high-speed and practicability to help you identify and investigate the microbial community. With over 10 years of experience, we can totally meet your project requirements and budgets in the exploration of microbial biodiversity.
Introduction of 16S/18S/ITS Amplicon Sequencing
16s rRNA gene, a highly conserved component, is the most widely used gene marker for genus and species identification and taxonomic significance in bacteria and archaea. The estimated substitution rate for hypervariable regions is approximately 7000 times higher than the highly conserved ones, which contains abundant taxonomic information based on these genetic differences. Therefore, the 16S gene amplicons obtained from PCR can be used to deduce taxonomic identifications based upon bioinformatics alignments.
Nevertheless, 18S rRNA is commonly used in fungi for phylogenetics since it has more hypervariable domains than 16S. In addition to this, the ITS (Internal Transcribed Spacer) region (including 5.8S), removed in the posttranscriptional process of nuclear rRNA cistron, has been widely regarded as a universal fungi barcode marker for a successful identification for the broadest range of fungi. And compared to 18S, ITS is more variable and hence more suitable as the genetic marker for measuring intraspecific genetic diversity.
16S/18S/ITS Amplicon Sequencing has now been a well-established method for microbial identification and phylogeny studies of samples from complicated microbiomes or environments. In addition to next-generation sequencing platforms, CD Genomics also provides full-length 16S/18S/ITS amplicon sequencing by using PacBio SMRT sequencing technology.
Advantages of 16S/18S/ITS Amplicon Sequencing
The most common housekeeping genetic markers with conserved and variable regions.
Characterized by fast speed, cost-efficiency and high-precision.
Multiple applications: microbial identification, diversity analysis, taxonomy and phylogeny, new species determination, relationship study of microorganism and disease, metagenomics, etc.
16S/18S/ITS Amplicon Sequencing Workflow
Our highly experienced expert team and strict quality control following every procedure to ensure comprehensive and accurate results. And a PCR-free protocol is optional for a fast workflow and superior data quality upon your request. The typical turnaround time for the whole workflow is approximately 30 working days.

Service Specification
Sample requirements and preparation

Samples sources including human, animals, natural environments and industrial environments, as well as DNA and PCR products
Sample preparation protocol including purification, quantification, QC, etc.
Both PCR-based and PCR-free protocols are available

Sequencing

MiSeq PE300/PE250 or HiSeq PE250
PacBio's SMRT technology is available for full-length 16S/ITS rRNA sequencing
More than 80% of bases with a ≥Q30 quality score
30,000 -100,000 tags per sample

Bioinformatics Analysis
We provide multiple customized bioinformatics analyses:

Tags assembly and OTUs clustering
Species annotation, species profiling histogram, heat map and phylogenetic tree
Alpha diversity, Beta diversity, Meta-analysis
… (more upon request)
Analysis pipeline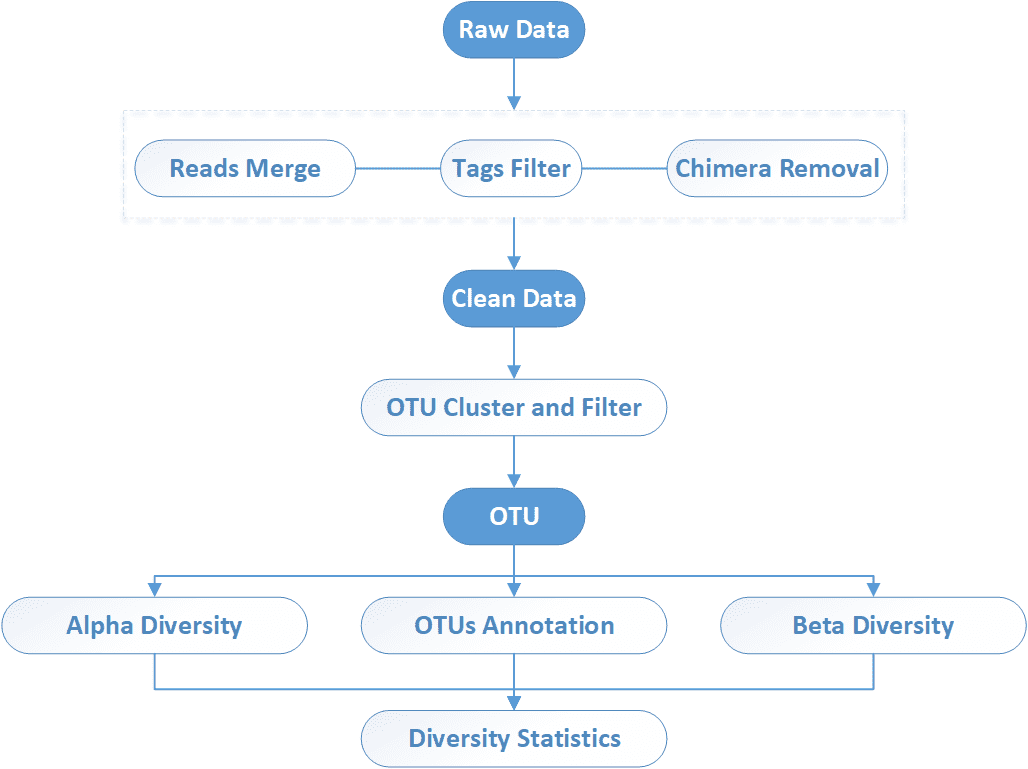 At CD Genomics, with multiple specialists and years of experience in this area, we guarantee you high-quality data and integrated bioinformatics analyses. If you are interested in what CD Genomics can do with the 16S/18S/ITS Amplicon Sequencing, please do not hesitate to contact us. We are more than happy to be of assistance!
* For Research Use Only. Not for use in diagnostic procedures.