January 25, 2019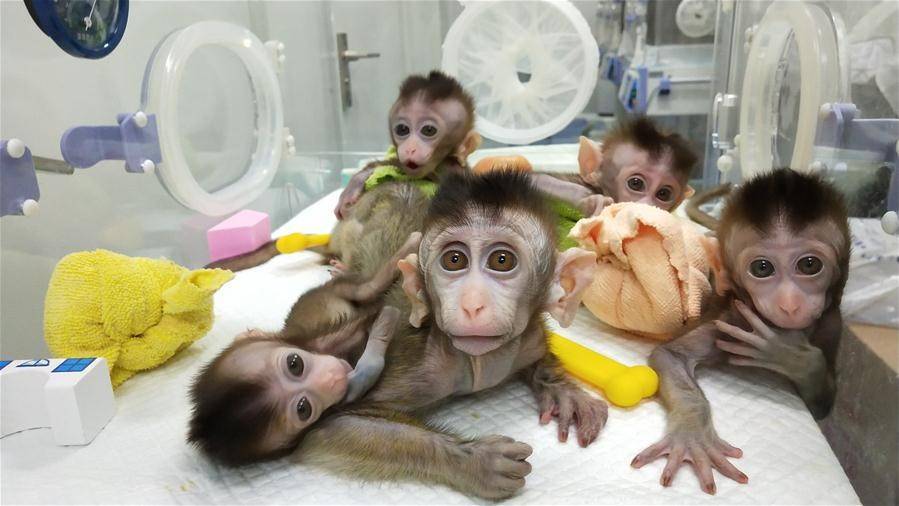 Scientists at the Institute of Neuroscience (ION) in China have reportedly used gene-editing technology to knocked out BMAL1, a core circadian regulatory transcription factor, using gene editing at the embryo stage in macaque monkeys, one of which was then cloned to produce five virtually identical specimens. This prototype could create populations of genetically identical monkeys to allow scientists to better study the mechanisms of complex human disorders.
Disorders of circadian rhythm are associated with many human diseases, including sleep disorders, depression, diabetic mellitus, cancer and neurodegenerative diseases, such as Alzheimer's disease.
Previously, mice and flies were widely used for the research of such diseases, but these animal models differ greatly from human beings in terms of activity routines, brain structure and metabolic rate. The advantage of cloning primates is that it reduces the need for numerous animals during certain experiment types, such as testing drug efficacy, as uncertainty of results due to genetic variation is reduced.
The process cost around half a million dollars, and started with 325 cloned gene-edited embryos, implanted into 65 surrogate monkeys.
"This research program is reviewed and supervised by the institute's ethic committee in accordance with international ethical standards of animal research," said Qiang Sun of the institute. Mu-ming Poo, ION's director and co-founder, said the studies showed that China had mastered the capability of producing a population of customized gene-edited macaques with uniform genetic background that would advance biomedical research and the promote the discovery of new drugs. The research will also help reduce the quantity of macaques used in biological research around the world.
In the future, the researchers are intending to create models of brain diseases, such as Alzheimer's disease, Parkinson's and Angelman syndrome. Because the symptoms for these diseases take time to appear, having animal models to monitor will help research the diseases thoroughly.
In the long-term the researchers are also intending to work with international researchers to create primate models of metabolic and immune-deficiency disorders and cancer which scientists can experiment on.