As an experienced provider of NGS services and a partner of Illumina, CD Genomics is committed to offering unprecedented amounts of sequence data permitting rapid and innovative analytical approaches with cost-effective solutions. We have strong expertise in providing the confident and unbiased viral metagenomic sequencing service by employing state-of-the-art high throughput sequencers, sequencing strategies, and bioinformatics pipelines.
The Introduction of Viral Metagenomic Sequencing
Viruses are the most abundant biological entities in the world which outnumber microbial cells 10:1 in most environments. Viruses constantly inhabit our body, and asymptomatic hosts are no exceptions. This emerging vision raises the need for the exploration of the virome. Viral metagenomics can provide insights into the composition and structure of viral communities. Profiling the taxonomic composition of viral communities is important not only for basic research but also for clinical science and practice.
However, viral communities are difficult to be characterized because there is no single gene that is shared by all viral genomes, which limits the application of analogous methods used in bacteria for ribosomal DNA profiling. The low-abundance of free and cellular DNA is another challenge. Metagenomic shotgun sequencing and RNA-seq are two approaches for the characterization of viral communities. Direct sequencing can result in a high background of genetic materials. Therefore, extra procedures are needed to concentrate and purify viral particles (VPs). Multiple viable enrichment methods have been suggested, including filtration, ultracentrifugation, nuclease treatment, multiple displacement amplification (MDA), linker-amplified shotgun library (LASL), and random PCR approach.
Advantages of Viral Metagenomic Sequencing
No need for cultivation or antibody laboratory tests
Comprehensive information on community biodiversity, taxonomy, and function
Promising applications include virus discovery and viral pathogen identification associated with horticulture, veterinary medicine, and human health, especially for difficult-to-diagnose cases.
Viral Metagenomic Sequencing Workflow
Our highly experienced expert team executes quality management by following every procedure to ensure comprehensive and accurate results. The general workflow for viral metagenomic shotgun sequencing is outlined below. Briefly, the basic steps involved in viral metagenomics include the isolation and purification of viral particles by size filtration or density-based centrifugation, sequence-independent amplification of viral nucleic acid, shotgun sequencing or RNA-seq and matched analyses on diversity, taxonomy, and function through a battery of reliable bioinformatics tools.

Service Specifications
Sample requirements and preparation

Samples sources including environmental and clinical samples
Sample qualification control
Isolation and purification of VPs and sequence-independent amplification

Sequencing

HiSeq platforms, paired-end 150 bp, MGI DNBSEQ-T7/DNBSEQ-G400
More than 2Gb raw data per sample
More than 80% of bases with a ≥Q30 quality score
PacBio's SMRT technology is also available for long fragment sequencing, which provides more accurate and contiguous sequences.

Bioinformatics Analysis
We provide multiple customized bioinformatics analyses:

The removal of host-related and bacteria-related contamination
Nucleotide alignment (VirFinder, VirusFinder and BLAST)
Protein alignment (RefSeq)
De novo assembly, taxonomy identification, coverage plot, and phylogenetic analysis
Analysis pipeline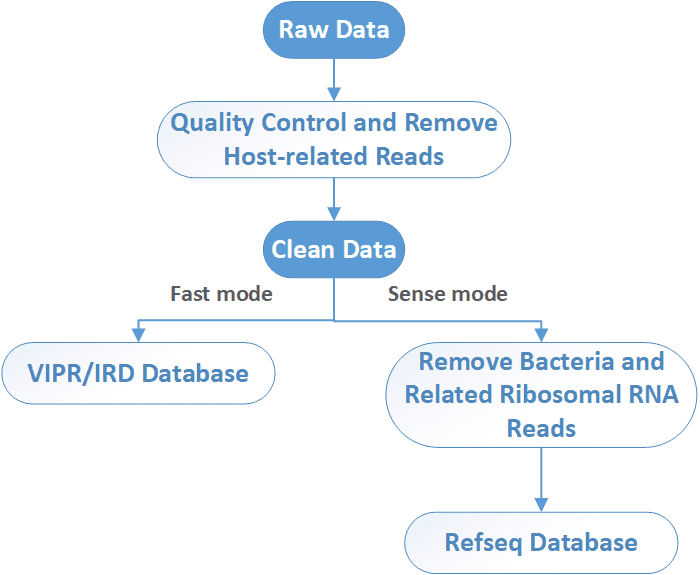 Apart from the qualified viral metagenomic sequencing, we provide assistance, including the experimental design, the determination of the appropriate sequencing platform, software tools, and analysis methodologies, to accommodate your project. If you have additional requirements or questions, please do not hesitate to contact us, our experienced specialists would like to help you to solve your questions.
References:
Li Y, et al. VIP: an integrated pipeline for metagenomics of virus identification and discovery. Scientific reports, 2016, 6: 3774
Rampelli, S. et al. ViromeScan: a new tool for metagenomic viral community profiling. BMC Genomics. 2016, (17):165.
Lewandowska D W, Zagordi O, Geissberger F D, et al. Optimization and validation of sample preparation for metagenomic sequencing of viruses in clinical samples. Microbiome, 2017, 5(1): 94.
* For Research Use Only. Not for use in diagnostic procedures.