Custom Hypertrophic Cardiomyopathy Panel
Custom Hypertrophic Cardiomyopathy Panel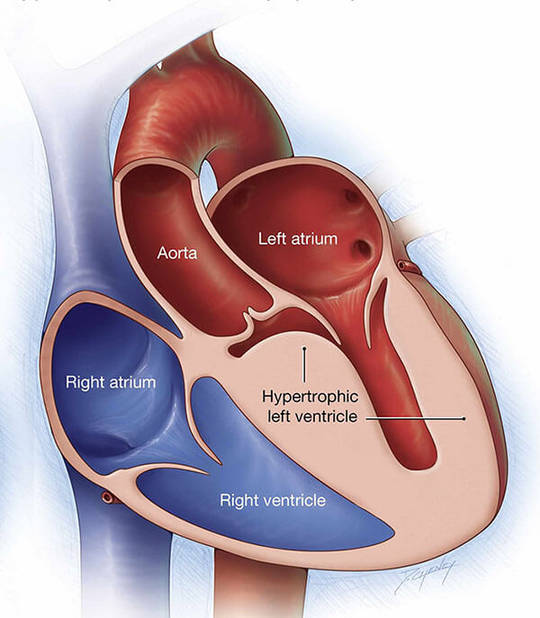 What is hypertrophic cardiomyopathy?
Hypertrophic cardiomyopathy (HCM) is very common and can affect people of any age. It affects both men and women. This is a common cause of cardiac arrest in young people, including young athletes. This disease is characterized by left and/or right ventricular hypertrophy, which is often with asymmetric hypertrophy and is implicated in the interventricular septum. The main pathological manifestations are myocardial hypertrophy, myocardial fibrosis and disorder of muscle fiber arrangement, among which the disorder of muscle fiber arrangement is considered to be the signature feature of HCM. Clinical manifestations are complex and varied, including asymptomatic, angina pectoris, syncope and sudden death. The clinical phenotype of HCM is the result of the combination of pathogenic genes, environmental factors and modifying genes.
Disease-related gene description
HCM is a single-gene disease with autosomal dominant inheritance. Individuals with different gene mutations have different phenotypes, and even individuals with the same gene mutation have great differences in clinical manifestations and prognosis. Even in a single family, individuals with the same mutation show different age of onset, clinical phenotype and prognosis. This suggests that in addition to structural and functional changes caused by mutated proteins, there are other causes of the disease, such as common or intermediate genetic variants in the genome or gene-environment interactions transmitted through epigenetic signals. At present, it has been determined that there are at least 25 related pathogenic genes, more than 1400 mutation sites. As long as one gene site is mutated, it can cause disease, and about 5% of patients have mutations of >2 gene sites. Among these disease-causing genes, β-myosin heavy chain gene (MYH7), myosin-binding protein C gene (MYBPC3) and cardiac troponin T gene (TNNT2) are the three most common mutant genes. Other HCM-causing mutations in genes which encode Z-disk and non-sarcomeric proteins, such as TCAP, MYOZ2, ANKRD1, PLN, JPH2 and CAV3, have been identified.
To support researches related to hypertrophic cardiomyopathy, we provide a custom hypertrophic cardiomyopathy panel platform that offers a comprehensive hypertrophic cardiomyopathy library. You can select the hypertrophic cardiomyopathy-associated genes from it. Targeted DNA sequencing technology that enables deep sequencing at high coverage levels is provided.
Custom hypertrophic cardiomyopathy panel offers are but not limited to:
Powerful sequencing technologies with advanced target enrichment methods are provided.
Every detected genetic variant will be further validated to ensure the validity of results.
Strict quality control throughout the pipeline workflow ensures the accuracy and repeatability of the sequencing.
Keep up with the frontiers from current literature about hypertrophic cardiomyopathy panel to target all relevant regions.
Customized hypertrophic cardiomyopathy panel only contains the genes you need, and save your time and cost.
You can choose the panel content from our melanoma cancer panel library or discuss your customized prostate cancer requirements, then we can provide you with your own panel.
Precision bioinformatics pipelines ensure superior analytical performance.
Choose the genes that suit you from the hypertrophic cardiomyopathy gene list
| | | | | | | |
| --- | --- | --- | --- | --- | --- | --- |
| A2ML1 | ABCC9 | ACAD9 | ACADVL | ACTC1 | ACTN2 | AGL |
| ALPK3 | ANKRD1 | APOA1 | BAG3 | BRAF | CACNA1C | CALR3 |
| CAV3 | CBL | COX15 | CPT2 | CRYAB | CSRP3 | CTF1 |
| DES | DMD | DSC2 | DSG2 | DSP | DTNA | ELAC2 |
| EMD | FHL1 | FKTN | FLNC | FXN | GAA | GATA4 |
| GATAD1 | GLA | HRAS | ILK | JPH2 | KRAS | LAMA4 |
| LAMP2 | LDB3 | LMNA | MAP2K1 | MAP2K2 | MTO1 | MYBPC3 |
| MYH6 | MYH7 | MYL2 | MYL3 | MYLK2 | MYOM1 | MYOZ2 |
| MYPN | NEBL | NEXN | NF1 | NRAS | PLN | PRKAG2 |
| PTPN11 | RAF1 | RASA1 | RBM20 | RIT1 | RRAS | RYR2 |
| SCN5A | SGCD | SHOC2 | SOS1 | SOS2 | SPRED1 | TAZ |
| TCAP | TNNC1 | TNNI3 | TNNT2 | TPM1 | TTR | VCL |
Specimen requirements of our custom hypertrophic cardiomyopathy panel
Specimen: blood, saliva or extracted DNA.
Volume: 3 mL blood, 2 mL saliva and 3ug DNA.
Collection: blood is collected by routine blood collection and saliva is collected by saliva collection kits (kits are available upon request). DNA samples are stored in TE buffer or equivalent.
Container: lavender-top (EDTA) tube or yellow-top (ACD) tube.
Storage/transport temperature: room temperature.
Gene panel workflow

For more information about the Custom Hypertrophic Cardiomyopathy Panel or need other amplification requirements, please contact us.
References:
Frey N, et al. Mechanisms of disease: hypertrophic cardiomyopathy. Nature Reviews Cardiology, 2012, 9(2): 91.
Seidman J G, Seidman C. The genetic basis for cardiomyopathy: from mutation identification to mechanistic paradigms. Cell, 2001, 104(4): 557-567.
Van Driest S L, et al. Myosin binding protein C mutations and compound heterozygosity in hypertrophic cardiomyopathy. Journal of the American College of Cardiology, 2004, 44(9): 1903-1910.
Marian A J, Braunwald E. Hypertrophic cardiomyopathy: genetics, pathogenesis, clinical manifestations, diagnosis, and therapy. Circulation research, 2017, 121(7): 749-770.
* For Research Use Only. Not for use in diagnostic procedures.