Oncology ctDNA Quality Control Products
The Importance of ctDNA Analysis in Oncology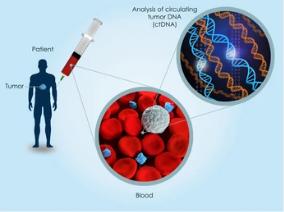 Circulating tumor DNA (ctDNA) is the genetic material that is released into the bloodstream by cancer cells. As cancer cells divide and die, they release DNA fragments into the bloodstream that can be detected and analyzed by next-generation gene sequencing (NGS) technology. ctDNA has become an important tool in oncology, providing important information about the genetic changes that cause cancer and how the cancer responds to treatment. In addition, ctDNA analysis allows physicians to monitor cancer progression and treatment response in real time, without the need for invasive procedures like biopsy. Overall, ctDNA analysis has the potential to transform the way cancer is diagnosed and managed, resulting in more personalized and effective treatment strategies.
CD Genomics offers a wide range of oncology ctDNA quality control products to assist you in ctDNA analysis for oncology research and therapy.
See all Products
Oncology ctDNA Quality Control Products Details
Our accurate and stable oncology ctDNA quality control products can mimic plasma ctDNA samples from oncology patients to help you identify the presence of cancer and track its progression, as well as monitor the effectiveness of treatments and the emergence of drug resistance.
Origin
Our tumor ctDNA quality controls are derived from cell lines with complete traceability documentation. Our laboratory's stable and reliable production system will ensure the monoclonal and passaged culture of cells and the stable production of ctDNA quality controls with homogeneous genetic backgrounds that mimic clinical samples.
Production Process
The production process is specified as follows:
(1) Cell lines with well-defined mutation loci are obtained by gene editing or cell screening.
(2) Mixing and interrupting gDNA with defined mutation sites and mutation frequencies through a specific production process.
(3) Obtain fragmented ctDNA controls with multiple mutation sites and frequencies of about 160bp.
(4) Validation by ddPCR to ensure that each batch of ctDNA controls produced has a precise and stable mutation frequency.
Mutation Types
Our tumor ctDNA quality control products contain a variety of mutation types, such as SNV, insertion/deletion, copy number variation/amplification, gene fusion, etc.
Mutation Loci
Our tumor ctDNAquality control products contain several popular cancer-related gene mutation loci, such as EGFR, KRAS, ALK, BRAF and other genes.
Applications
These panel standards can be used to monitor the quality assessment of NGS or dPCR based tumor testing workflows. The multi-locus quality control products reduce the need for multiple standards to be used in the quality control process and therefore simplify the workflow for customers in the quality control process.
Product Categories
Positive standards for structural variants
Positive standards for SNV variants
Wild-type standards (negative controls)
* For Research Use Only. Not for use in diagnostic procedures.
Explore Our Oncology ctDNA Quality Control Products:
| Cat. No. | Product Name | Brief Description | Inquiry | Basket |
| --- | --- | --- | --- | --- |
| OCQC001 | CD Tumor Structural Variation 5% ctDNA Standard | CD Tumor Structural Variation 5% ctDNA Standard is used for the detection of complex structural variants in ctDNA samples. | | |
| OCQC002 | CD Tumor SNV Wild Type ctDNA Standard | CD Tumor SNV Wild Type ctDNA Standard is used for the detection of complex structural variants in ctDNA samples. It can be used with Tumor Structure Variant 5% ctDNA Standard, Tumor SNV 5% ctDNA Standard, Tumor SNV 1-25% ctDNA Standard, etc. | | |
| OCQC003 | CD Lung Cancer ctDNA Standard Kit | CD Lung Cancer ctDNA Standard Kit is a highly characterized, biologically relevant quality control material. | | |