Whole exome sequencing (WES) is now being used more and more in the field of research and diagnosis. Researchers are expected to study the entire coding regions of known genes with adequate sequencing depth and coverage. Currently a large number of exome capture platforms on the market have there respective advantages and some differences in the capture efficiency.
Recently, researchers made a research on the three exome capture platforms of Agilent, NimbleGen and Illumina companies. In the experiments, the researchers tested the blood, saliva, and artificial cells(3 different samples with 6 different samples).
Through this study, the researchers believe that the Agilent capture platform obtains less different results in different samples and different detection companies. Capture Platform can display the superiority of its performance in the overall performance and stability. The researchers will also compare the results and data of four related research articles, holding that although NimbleGen capture platform is designed as an enrichment as large as possible and a coding region in the genome as high as possible, the latest version of the Agilent capture platform can produce higher proportion and more continuous exome trapping. Users of NimbleGen capture platform should pay attention to the GC region, which may reduce the enrichment efficiency.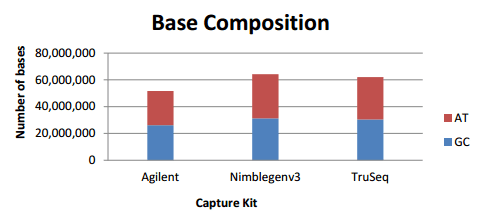 WES users expect to have enough reads coverage of the entire coding region of the known genes, so if we want to get better experimental data, to evaluate the capture platform is particularly important.
For clinical research, the coverage of each gene exome and intron is very important, especially in the GC enriched region. Because considerable gaps exist in the genome, three capture platforms used alone or in combination, can not cover all known exome regions, while whole genome sequencing (WGS) can compensate.
It has been speculated that, due to the introduction of HiSeq X Ten, costs of WGS will be lower, and it will also be more welcome, therefore. Will WGS replace WES? In the fields of research and diagnosis, with the deep understanding of the genome, WES may become an alternative relative to WGS. However, the clinical use of WES is still cautious, and should be combined with the health of the patient, especially when measuring a large number of exomes, genes and some unknown genetic information.