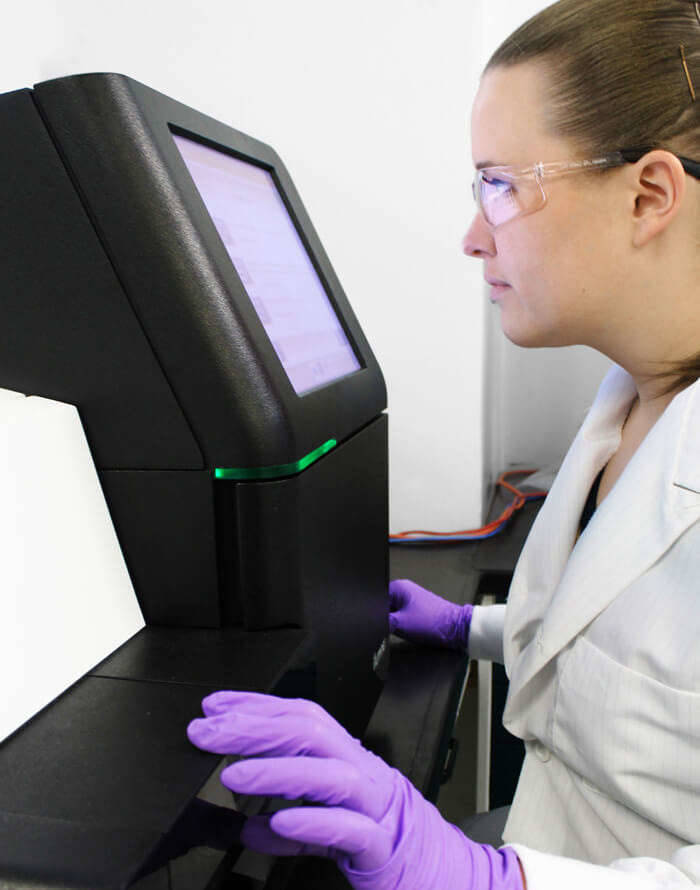 Fig 1. Hybridoma technology.
Norgen Biotek offers comprehensive services for Next-generation sequencing (NGS) in an accredited state-of-the-art laboratory from sample isolation to sequencing. Norgen Biotek has extensive expertise in sample preparation, sequencing and analysis of all types of samples: cells, tissues, exosomes, as well as bodily fluids including plasma, serum, urine, saliva, etc, bacteria, viruses, and plant tissues. Our expert staff will assist in the initial consultation and sample handling to the final analysis of data presented in an easy to understand report. Your project will receive full attention by experts with a guaranteed fast turn-around time. Our services include: 1) Sample Isolation, 2) RNA Quantification and QC, 3) Library Preparation, 4) Library Quantification and QC, 5) Sequencing, and 6) Data Analysis, 7) Data Report.
Comprehensive services – sample-to-answer
Expertise in RNA extraction and sequencing of all types of samples including bodily fluid samples
Excellent ability to derive meaningful data from samples with low RNA concentration
Close consultation and expert advice throughout the process
Quality assessment of RNA at every step of the process
Fast turn-around and very responsive staff

Service Workflow:
Consultation – This is free of charge. It is essential to have an initial engagement regarding the samples and the sequencing project with our experts to define and set clear objectives and outcomes. This is an excellent way to start your project. What are you trying to achieve? Depth of reads required to answer your questions, etc.?
Sample Submission – We will provide instructions on how to handle, process, and ship the sample and specify the sample requirement (based on sample type). In addition, we will offer sample isolation services.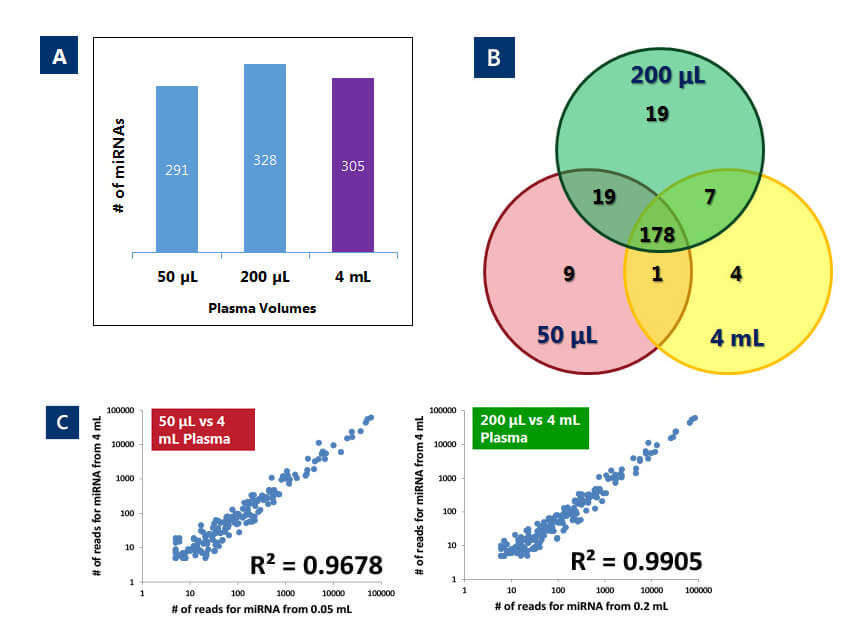 Small RNA Sequencing from as little as 50 μL of Plasma. Norgen Biotek has developed an effective pipeline of small RNA sequencing from small volume of plasma or serum. RNA could be effectively and consistently recovered from as little as 50 μL of plasma using Norgen's patented sample preparation technology (example shown here with Plasma/Serum RNA Purification Mini Kit, Cat# 55000). Panel A showed that the number of microRNA detected from 50 or 200 μL of Plasma was almost identical to that of 4 mL. Panel B is a Venn diagram showing that of the microRNAs identified, the majority are detected in all volume of plasma input from 50 μL to 4 mL. In fact, the scatter plots in Panel C showed the relative expression level of each microRNA detected was highly correlated between 50 or 200 μL of Plasma and 4 mL plasma.