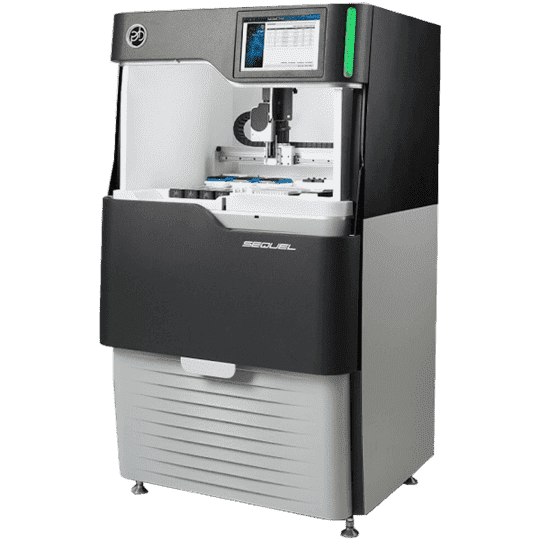 The Leader in Long-Read Sequencing
The PacBio Sequel System is ideal for rapid and cost-effective de novo genome assembly, structural variation analysis, and much more. SMRT Cells contain up to a million ZMWs which simultaneously monitor each of the waveguides in real time. Half of the data in reads: >30 kb. Data per SMRT Cell: Up to 10 Gb. Free of systematic errors Achieves >99.999% (QV50). No amplification required. Even coverage across GC content. Directly detect DNA modifications using polymerase kinetics.
It could easily sequence low-complexity regions; access all variant types; directly detect full-length transcripts without assembly; simultaneously analyze genome-wide methylation with single-base resolution and so on.
Accelerate your research with the most comprehensive view of genomes, transcriptomes and epigenomes.
The advantage
Long Read Lengths
High Consensus Accuracy
Uniform Coverage
Simultaneous Epigenetic Characterization
Flexible Design and Analytics
Sequel compared with RSII system performance
| | | |
| --- | --- | --- |
| | Sequel | RS II |
| Average read length | 10~18K | 10~15K |
| ZMWs Number | 1,000,000 | 150,000 |
| Data per SMRT Cell | 5~10G | 500 Mb~1 Gb |
| SMRT Cell Number/per Run | 1~16 | 1~16 |
| Run time/per SMRT Cell | 0.5~6hrs | 0.5~6 hrs |
PacBio circular consensus sequencing provides high-accuracy long reads at the single-molecule level