Flexible and Scalable NGS System for Any Application
The NextSeq 500 Sequencing System delivers the power of high-throughput sequencing with the speed, simplicity, and affordability of a desktop NGS (next-generation sequencing) system. The fast, integrated, sample-to-results workflow enables many sequencing applications—including exomes, whole genomes, and transcriptomes—in a single run. This NGS system fits seamlessly into research laboratories, with no need for specialized equipment. Now, researchers can perform any combination of high- and mid-throughput sequencing applications to advance their studies.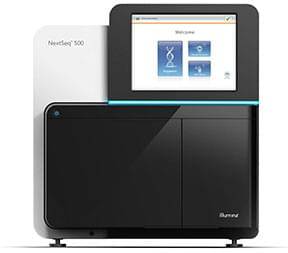 Highlights of Hiseq X Ten Sequencer:
Unprecedented Speed and Throughput: Generate 1.6-1.8 Tb in < 3 days in dual flow cell mode to perform whole-genome sequencing on an unrivaled scale.
Exceptional Data Quality: Highly accurate Illumina sequencing by synthesis (SBS) chemistry delivers proven industry-leading data quality.
Get accurate bi-directional amplicon sequencing
Population-Scale Genome Sequencing: Highest daily throughput delivers unmatched cost-effectiveness for population-scale projects.
Mid-output

High-output

Key applications

Everyday genome, exome, transcriptome sequencing, and more.

Flow cells processed per run

1

1

Output range

20-39 Gb

30-120 Gb

Run time

15-26 hours

12-30 hours

Reads per flow cell

130 Million

400 Million

Maximum read length

2 × 150 bp

2 × 150 bp