CD Genomics is now offering Hi-SNPseq which is an innovative and scalable method for high-throughput SNP genotyping by combining multiplex PCR and next generation sequencing technology, enabling quantitative multiplex data analysis and accurate SNP calling.
The Introduction of Hi-SNPseq
Hi-SNPseq combines multiplex PCR and high-throughput sequencing to perform multiplex PCR amplification with site-specific primers in a single tube. Different samples were distinguished by different barcoded primers. After mixing the samples, high-throughput sequencing was performed. Bioinformatics methods are used to distinguish different samples, and finally obtaine the SNP information of each site. Compared with other SNP detection technologies, SNP genotyping based on high-throughput sequencing is more accurate and sensitive. Hi-SNPseq is very suitable for SNP analysis of large number of SNPs and large-scale samples. It is widely used in the study of population genetics and genes related to diseases.
Applications
Disease-gene associations
Clinical molecular diagnosis
QTL mapping
Molecular breeding
Advantages of Hi-SNPseq
High Throughput: Up to thousands of SNPs can be genotyped in one reaction, and thousands of samples can be genotyped together using multiplex sequencing with Illumina sequencer.
High Specificity: The primers require specific bindings of both 3' arm and 5' arm, resulting in a significant increase of specificity as compared to regular primers.
Cost Effective: Assay costs are significantly less than those of most other high throughput SNP genotyping methods.
Simplified Hand-on Workflow: Just one amplification and one purification are needed before sample uploading on the NGS sequencer.
High Success Rate: SNP call rate is routinely above 97%; sample pass rate is consistently above 98%.
Hi-SNPseq Workflow
The procedures for our Hi-SNPseq are illustrated below.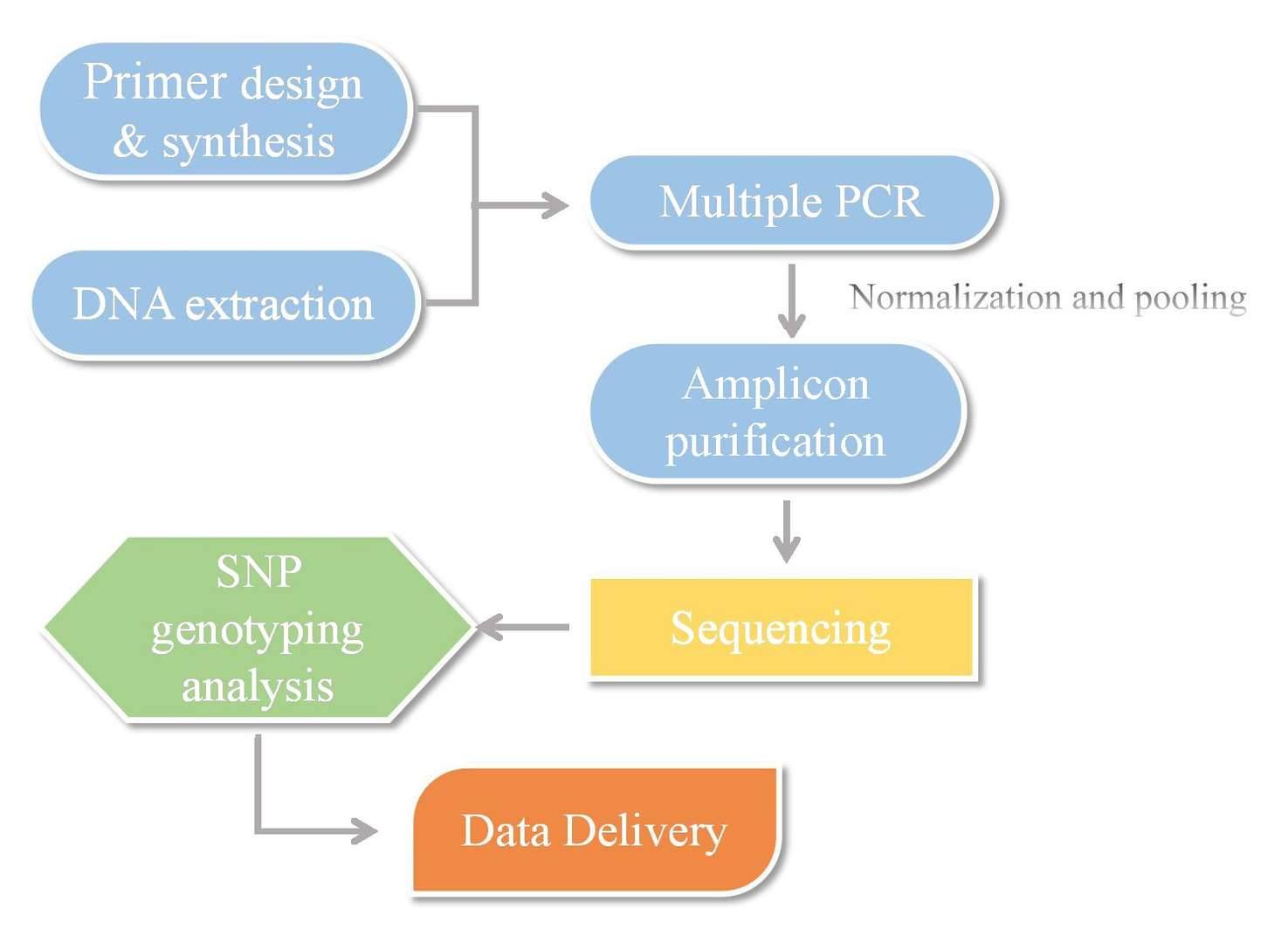 Service Specification
Sample requirements and preparation

DNA amount ≥ 1 μg, DNA concentration ≥ 20 ng/μl, OD260/280=1.8~2.0
All DNA samples are validated on purity and quantity

Sequencing

Average target specificity and coverage uniformity are above 97%

Bioinformatics Analysis

Quality metrics, including mapping statistics and base call quality distributions
Annotated SNP list for targeted regions in Excel format
… (more upon request)
Deliverables
The original sequencing data
Experimental results
Data analysis report
Details in Hi-SNPseq for your writing (customization)
With state-of-the-art sequencing platforms and deep collaboration with highly experienced technicians and scientists across departments in CD Genomics, we make this Hi-SNPseq technique affordable and reliable to process large-scale genotyping. If you have additional requirements or questions, please feel free to contact us.
* For Research Use Only. Not for use in diagnostic procedures.